Speaker of Akwa Ibom State House of Assembly, Mr. Oniofiok Akpan Luke and Chima Desmond Anyaso, Saturday, led other youth leaders in Nigeria to unveil project NN19, a platform to encourage active youth participation in governance and leadership.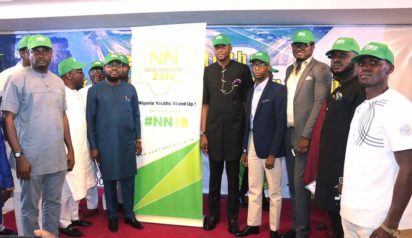 The event which held at the Base Landmark Conference center in Enugu on the sidelines of the Southern Young Leaders Conference had in attendance prominent traditional rulers, youths and business leaders from across Nigeria.
In his remarks, speaker of Akwa Ibom State House Assembly charged Nigerian youths to rise up to the demands of today's leadership by taking charge and participating actively in governance and policy making process, say that "the youths should be involved and aware of issues around them, and must set high ethical standards so as to be taken serious in critical national debates". He raised concerns over the current situation where Nigerian youths only complain about poor governance but do nothing to improve the state of affairs of the country.
Chima Anyaso, Vice Chairman South of Nigeria Young Professionals said that NN19 is a youth movement brought about to help galvanize and mobilize young people in Nigeria into active political participation.
In his words "we are worried that things will go out of control soon if the critical masses of Nigerian youths fail to engage actively in the political process.
'We are concerned that things will get worse and we may not be able to build the kind of country that we all desire for the next generation, if the youths refuse to be involved actively.
'NN19 is a movement and a platform for active political participation, a platform that will help close the current leadership gap. We want to support young vibrant Nigerians who are interested and ready to participate in the political process and in leadership roles".
On his part, Moses Siloko Siasia who is the Chairman of Nigeria Young Professionals urged youths of Nigeria to get in involved by first joining the movement NN19 which stands for New Nigeria.
He said the platform is open and will be available to all interested and enthusiastic young Nigerians, male and female.
Oscar Obi, personal assistant to the senate president on youth matters urged youths to set high -standards with a well spelt-out moral code built on the foundation of excellence to enable them contribute effectively to national development