The Lagos State House of Assembly has described the Vice President, Prof. Yemi Osinbajo, as an intelligent, resourceful and dutiful public officer.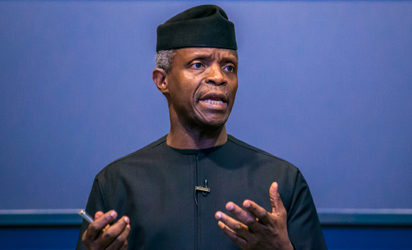 The lawmakers lauded Osinbajo in a statement as he turned 61 on Thursday.
In the statement signed by Mr Tunde Braimoh, the Chairman, House Committee on Information, Publicity, Strategy and Security, the Assembly said that it was proud of the vice president.
"The Speaker of the House, Rt-Hon. Mudashiru Obasa and the entire membership of the Lagos State House of Assembly felicitate with the prolific and quintessential Vice President on the auspicious occasion of his 61st birthday.
"We rejoice with His Excellency, the Vice President as we reminisce on his evolution from a highly cerebral, ingenious and intuitive law teacher to an exemplary, debonair, consummate and venerated public administrator.
"We are indeed glad and proud of His Excellency as we lay claims to him as a product of Lagos.
"This is where he cut his political teeth as Hon. Attorney-General and Justice Commissioner for eight (8) epochal years under the vintage leadership of the trail blazing Asiwaju Bola Amed Tinubu,'' the Assembly said.
According to the lamakers, the Vice President, in his public and private conducts, has epitomized and crystalized himself as a loyal ally and assistant to his leader, the President.
The spokesman of the House described Osinbajo as a "venerable, diligent, and intelligent public officer as well as a tireless, committed, dedicated, patriotic resourceful and dutiful statesman''.
He said that these attributes had become trademark peculiarities of the VP, to the popular acclaim and admiration of all and sundry.
"It is for these good reasons and many more that we congratulate the Vice President.
"We pray God to grant him many more happy years of fruitful existence and sustained relevance, both in the service of his fatherland and personal livelihood.
"We wish our very dear populist and clairvoyant Vice President a happy birthday and many happy returns''.(NAN)