…We'll restore his legacies, Fayemi, Akeredolu, others vow
By Rotimi Ojomoyela & Daud Olatunji
ABEOKUTA— LOYALITS and supporters of the late sage and former Premier of the defunct Western region, Chief Obafemi Awolowo have expressed concern over the alleged mismanagement of his legacies by the present leadership in the country, 31 years after his demise.
Daughter of the late sage,  Dr. Olatokunbo Awolowo-Dosumu; former governor of Ondo State, Dr Olusegun Mimiko; Second Republic Senator, Prof Banji Akintoye and Senator Femi Okunrounmu, among others, identified bad leadership among causes of problems facing the country since its independence.
They said this yesterday at the second series of the annual programme in commemoration of the birth  of Chief Obafemi Awolowo, titled: 'Awo conservation', held at Efunyela hall, Awolowo's residence, Ikenne -Remo, Ogun State.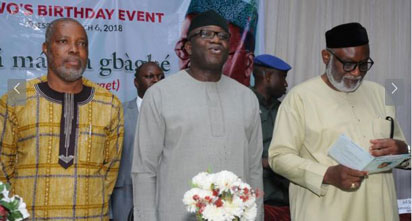 The speakers declared that the legacies left behind, 31 years ago, by the late leader have been destroyed.
Chairman of the event, organized by Obafemi Awolowo Foundation, Prof. Akintoye in his remarks, said the present generation leading the country did not think about the future of the people.
The Professor of History said: "The leadership is awful, the followership is worse. There is no thought about the future of the people by the government.  Awo is the one pillar that has contributed immensely to the development of the country, most especially the western region."
Also speaking, Senator Okunrounmu blamed the present administration for allegedly bastardizing the legacies of the country's founding fathers.
On her part, the Executive Director of Awolowo Foundation, Dr. Awolowo-Dosumu lamented that the youths in the country have been denied the opportunity to learn about their nation's history.
She, however, urged Nigerian youths to choose the right leaders in the forthcoming elections.
In his remarks, Dr Mimiko said the biggest legacy of Awolowo was the free access to quality education, adding that the legacy would live forever.
We'll restore his legacies, Fayemi, Akeredolu, others vow
In a similar vein, Minister of Solid Minerals and Steel Development, Dr Kayode Fayemi has vowed that his party, the All Progressives Congress, APC, will re-enact the "life more abundant" mantra of Chief Obafemi Awolowo in Ekiti, when the party reclaims power in the July 14 governorship election.
Fayemi, a former governor of Ekiti State, said this at the 109 posthumous birthday anniversary of the late sage, organised by the Afenifere Renewal Group, ARG, held at the Eagle hall, in Ado Ekiti, Ekiti State.
His words: "What is most important is that those of us behind whom God has given the opportunity to lead, must pay our dues and help our people in Yoruba land. Awolowo has done a great deal and that is why we are celebrating him since he died in 1987. He is still being celebrated in Ikenne today like we are doing in Ekiti."
Also extolling the virtues of late Awo, governor Akeredolu said: "We are celebrating what Awolowo stood for which is the advancement of the Yoruba and African race.
"Ours is pureness of heart. Awolowo has played his part."
Subscribe for latest Videos