By Nkiruka Nnorom
The Nigerian Stock Exchange, NSE, today halted the four day winning streak following massive sell-off on the shares of 23 companies, resulting in loss of N236 billion in investors' wealth.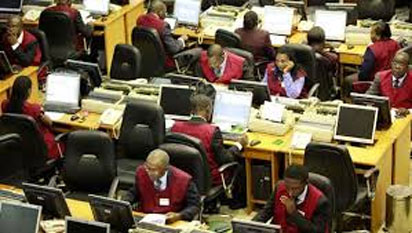 Top among the companies that drove the market capitalisation down are Unity Bank Plc, Wapic Insurance Plc, Unic Diversified Holdings Plc, Sterling Bank Plc and John Holt Plc. Also in the list in the most capitalised stock in the stock market – Dangote Cement Plc.
Consequent upon the losses, the market capitalisation, fell by N236 billion or 1.51 percent to close at N15.431 trillion from N15.667 trillion the previous day.
Analysis of the trading result, shows that Unity Bank Plc topped the list, declining by 9.24 percent to close at N1.67 from N1.84 per share.
Wapic Insurance Plc trailed far behind with 6.45 percent decline to close at n0.58 from N0.62 per share. Unic Diversified Holdings Plc ranked third, falling by five percent to close at N0.19 from N0.20 per share.
Sterling Bank Plc recorded 4.26 percent decrease to close at N1.80 from N1.88, while John Holt Plc was down 4.17 percent to close at N0.46 from N0.48 per share.
Eterna Plc, on the other hand, led the gainers, rising by 10.15 percent to close at N6.40 from N5.18.
Japaul Oil and Maritime Services Plc closed as the second on the list, appreciating by eight percent to close at N0.81 from N0.75 per share.
Hallmarkt Insurance Plc placed third, rising by 6.06 percent to close at N0.35 from N0.33; NEM Insurance Plc came emerged fourth after recording five percent increase to close at N2.52 from N2.40, while AG Leventis closed the list of top five losers with 4.92 percent decline to close at N0.64 from N0.61 per share.