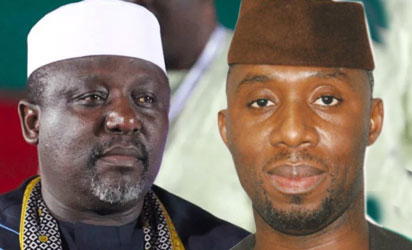 Rochas Okorocha and Uche Nwosu
..Says he won't back down to intimidation, not even from spiritual realm
…The issue of zoning is myopic, it's a cheap approach to gaining power, he says
…Challenges opponents to present evidence as he dismisses zoning arrangement in Imo
By Joseph Erunke
ABUJA-GOVERNOR Rochas Okorocha of Imo State has said his decision to throw his support for his Chief of Staff, Uche Nwosu, to succeed him as governor in 2019,was based on age and ability to move the state past his achievements.
The Imo State Governor said of all that have indicated interest in his seat, only Nwosu, who incidentally is his son-in-law qualifies for the job given that apart from being below 50 years of age, he has the capacity to immediately drive the state to its desired destination.
This was even as he dismissed claims in some quarters that there was an existing zoning arrangement that governorship of the state be rotated among the three geo-politcal zones of the state.
The Governor, speaking to newsmen at the weekend in Abuja, by his Special Adviser on Electoral Matters,Chief Steve Asimobi, also warned that his administration would not condone attempts by some people opposed to his choice to intimidate him to submission.
Describing Nwosu as the best choice for the state in 2019,the governor asked Imo State citizens to support him so he can take the state to the next level.
Asimobi, who spoke along side the Special Adviser to Governor Okorocha on Imo State Liason Office in Abuja and former Commissioner for Health in the state, Dr Edward Onyemaechi Ihejirika, explained that the decision to have Nwosu as next governor of the state was not that of the Governor but the decision of all stakeholders among which included traditional rulers, traders, political leaders from across the council areas of the state and different groups in the state.
"The governor has given quality reasons why he will not hand over power to anybody who is above 50 years of age.
"The Chief of Staff, Uche Nwosu can place his hands on the handle, he can drive the state and he is humble. He's not vindictive, he's young and have age on his side so he can inspect projects without getting arthritis.
"The governor has given quality reasons why he would support Uche Nwosu as governor. But contrary to what you may have heard, the governor has not endorsed him even as he is qualified to endorse whoever he wants to endorse.
"Nobody wants his legacy to disappear, so endorsement is a natural process in any democratic system. During last election, the Catholic Church took a decision that they wanted to endorse, traders will endorse, traditional rulers will endorse, communities will endorse. And so the governor is also qualified to endorse whoever he wants to endorse but he has not said so.
"He has not foisted any candidate on the masses because the party will still go through primary. That is the Constitution of the Federal Republic of Nigeria and the party's guideline as well as the Electoral Act."
On why the governor is backing his son-in-law to succeed him, he said:" People talk about his son-in-law and I tend to ask where do we borrow our democracy from?
"Look at American history, some times in the history of America, it was the Kennedys, the Kennedy Dynasty and Hegemony, if not for death and perhaps some other factors, maybe they may have ruled America for a very long time.
"Look at the Bush family. Bush Senior was the President of America and his two sons were governors of two states in America. After Bill Clinton came, Bush junior became president of America. If it was in Nigeria, people will shout blue. After Clinton, his wife wanted to become president of America and almost defeated Obama. She later contested against the present American president and won the popular vote in the election.
"If America where we borrow our democracy from are wise in doing this, why are we pedestal to be talking about son-in-law?
" If Uche Nwosu now divorces his wife, is he now qualified to run? At times, we push morality to the extreme in Nigeria! The governor wants somebody that can come and supercedes him, he does not want somebody that will come and take us back to Egypt."
Reacting to reports that the governor's supporters threatened to beat up Archbishop Obinna recently in the state over his opposition to Nwosu's governorship ambition, he warned that the state would not condone any intimidation from any quarter,not even from the spiritual realm.
Hear him:"Bishop Obinna had always wanted somebody from his own side as governor of Imo State.
"I remember that it was the same Bishop Obinna who lied against Ohakim that he beat up one Rev Father Okorie a day after local government election was conducted in Imo State under former Governor Ikedi Ohakim's tenure.
"And I was the Special Adviser to Ohakim on Electoral Matters and local government election fell within my mandate. We cried blue black trying to convince the whole world that nothing as such happened but the world refused to listen to us. Reverend Father Mbaka of Adoration Ministry even sang a song about a governor that beat up a Reverend Father. Of course, you are aware that apology has been tendered and the truth has come out four years after, the damage was done because the government kept quiet then.
"But today, we are not going to allow this government to be intimidated by tales of lies and tales of woes coming from anywhere, not even from the spiritual ream."
Speaking on alleged existing zoning arrangement in the state which some Imo State citizens have accused the governor of violating, he said there was no such arrangement, asking those with such belief to produce the agreement for people to see.
"I have been around since 1999 in politics and I can tell you that there's nothing like Imo Charter of Equity. That's why since 1999,people from Olu, Owerri and Okigwe, the three senatorial districts of the state have been running for governorship election. So if there's a charter of equity that says it's only Olu man that can be governor of Imo in 1999,some politicians would have respected it.
"Again, these people talking about the Imo Charter of Equity, ask them for a copy of the charter of equity, who were the signatories to that charter? I think Imo State has moved on.
"The issue of zoning is myopic, it's a cheap approach to gaining power.
"Quote me that there's no Imo Charter of Equity and if there is, let them make it available and let us see those who signed it. And also, let us see those who have respected it, "he explained.