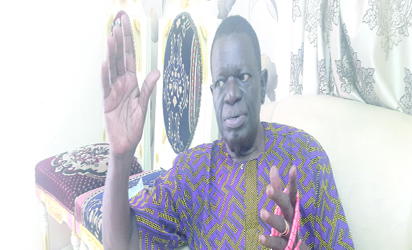 Senator Owie
•It's better not to have any government than for PDP to return
•How Igbo leaders betrayed Ekwueme
•Obaseki is doing well but losing grip of his party
•What Awolowo told us about party supremacy
Senator Rowland Owie, a veteran politician was a former Chief Whip of the senate. He was also in the House of Representatives between 1979 and 1983. He is currently the chairman, National Contact Committee of the Action Democratic Party (ADP).
In this exclusive interview, Senator Owie declared that both the Peoples' Democratic Party, PDP and the ruling All Progressives Congress, APC, have failed Nigerians, asserting that his new party, the ADP has all it takes to sweep the polls at next year's general elections. He also disclosed why he worked against his former party, the PDP in the 2016 governorship election in Edo state to support Governor Godwin Obaseki of the APC.
Excerpts:
By SIMON EBEGBULEM, BENIN CITY
As we approach the general elections in 2019, politicians have started adjusting here and there. The opposition PDP is regrouping hoping to retake power, the SDP is also waxing stronger while the APC government is being accused of failing to deliver on its promises. What is your take on all these?
The problem we have today was caused by the PDP. It is a pity I was in that party.   We were the founding members of the PDP. The leadership of that party brought impunity into the party. By the time the PDP took over power, Nigeria Airways was alive, Aladja was working, Ajaokuta was working, Basita sugar company was working, NITEL was working. As a matter of fact, when we were in the senate, NITEL had over N2.4billion in its account, they were not borrowing to pay salaries. But the PDP government came and sold these businesses and as at today not one single staff of these former companies had got his or her pensions and gratuities. The party went ahead and destroyed all the toll gates from where huge revenue could have been derived to fix all Federal roads without going to ask for tax payers money. Do you know that one year's allocation during Obasanjo's tenure was just about 10 per cent higher than the allocation IBB got in eight years. And yet IBB's performance for that period surpassed Obasanjo's performance in eight years. So when you say the PDP is regrouping, it is laughable because they can never regroup. This is a party where governors decide what happens while the ideals of the party built by the founding fathers of the party had been destroyed.
Few weeks ago, former Chairman of the PDP, Col.Ahmadu Ali, during the launching of his book declared that he was a major proponent of third term. Ordinarily he should have been stoned for saying that. I was even more disappointed when Prof. Jubrin Aminu, former Vice Chancellor of Ahmadu Bello University, said that he respected Col. Ahmadu Ali, a man who supported third term for Obasanjo. It is a shame. It is better not to have any government in place in Nigeria than for PDP to return. I was just reading in the papers how PDP shared N150billion two weeks to the 2015 general election. Let me tell you, after Shehu Shagari, then Shehu Musa Yar'Adua, and bit of President Jonathan before he was hijacked by palace jesters, there was no other civilian president in this country. The eight years of Obasanjo were a waste and PDP should take responsibility for it because they fielded him. So PDP cannot come back again, they are making noise as usual.
For the SDP, my happiness about the arrival of SDP is that it is depleting PDP and very soon the PDP will be erased and the SDP will be nowhere. Those who are going to the SDP are analogue politicians, they don't know the mechanics of a political party. In the first Republic it was Action Group, NCNC, UNPC, NEPU, when the coup took place and entered second Republic those four parties died and never came up because they were already in the mortuary. So the old Action Group came out as UPN, the old NCNC came out as NPP. The old NEPU came out as PRP and the old UNPC came out as GNPP and that was the end. So NRC, SDP came in the third aborted Republic. Are you still hearing of NRC, no. So SDP cannot fly. If you are looking for the sins of SDP and its leadership, it is the spirit of late Gen.Yar'Adua who they betrayed that will continue to haunt them. SDP can never be a threat to ADP. With ADP, by the grace of God, in government in 2019, the past shall be corrected and the future shall be secured.
How do you react to separate letters written by Obasanjo and IBB to President Buhari
Obasanjo's letter had merit but Obasanjo who was the messenger has no merit. IBB was a credible messenger with a credible message. Ordinarily, Buhari should not think of a second term but we pray that APC should field him so that it will make it a lot easier for ADP to win the election. As at today there is no APC in this country anymore.
There are reports of killing here and there and a feeling of insecurity across the nation, does it not give you cause for concern?
Of course I am concerned because I have never witnessed this type of killing before. These killings were not by herdsmen but organized killers. From time immemorial, herdsmen had been going around with their stick to escort their cattle, they never held any gun. As a matter of fact I have never seen any of them holding guns. But those who want to destroy our democracy are hiding under the herdsmen, they have sponsors and their sponsors don't mean well for this nation. But the only thing that shocked me was the silence of President Buhari over the atrocities of these people. A responsible government should know that its borders ought to the protected. I feel very strongly that those who are carrying out these killings are not from this country but because the government is not bothered about how to protect our borders, these perpetrators continued. Our borders should be policed seriously and every effort must be made to identify the non-Nigerians in our midst who are killing our people. There is so much joblessness and we have lost our values as a people. A lost nation is the one where hungry and jobless people blindly support those who are responsible for their agony and misery. PDP and APC have failed the nation.
IPOB/MASSOB agitations
That also brings me to the issue of IPOB and MASSOB. Any reasonable person in Nigeria cannot condemn IPOB because the Igbo man has been totally marginalized in this country. Some of the elites however contributed to the marginalization of the Igbo. How do you explain it that since 1979, the East has been marginalized. In 1983 it was going to be the turn of the Igbo to produce the President, but it was aborted by the military coup. Thereafter, in 1999 when they talked about zoning, it was clear the first President would come from the South West even though it was unjust because the PDP constitution was very clear that anyone who wanted to be President must win his polling booth, his ward, local government and state. But Obasanjo lost his unit, his ward, his local government, his state and zone and yet he became the party's candidate instead of late Alex Ekwueme. And the Igbo politicians who were supposed to insist that it was going to be Ekwueme refused to stand by him and quite a number of them started singing Obasanjo. Igbo leaders betrayed Ekwueme, if they had stood their ground to say 'this time it is our turn not South West, we were to have it in 1983 after Shagari', at least people would have listened to them. That was why before late Solomon Lar died, myself and one of my colleagues met him in Jos. We told him he did well when he was governor but from the way he managed the PDP, he had sown a seed that would be difficult to grow good fruits. When he asked why, I told him that the constitution of PDP provided that any body who did not win his unit, local government, state and zone in the preceding local council election must not contest for presidency but he went ahead and gave the form for Obasanjo to fill and thereby refused to enforce party supremacy. He regretted his actions and told me it was not his fault but that some top military men who wanted to compensate for June 12 imposed Obasanjo on them. When you look at the nation, after the Hausa, the next major tribe are the Igbo. Unfortunately the Igbo who are mostly traders, when you ask them to go and collect their voters card they will tell you they are in the market. You can see that three Igbo men won elections in Lagos, which shows that the Igbo in Lagos are conscious and you have to remain conscious because you cannot win Igbo presidency by just praying. You win election with your PVC so I advise Igbo to equip themselves with their PVCs. Igbo should wake up and take what belongs to them. For instance in 1999, the senate President was zoned to the East while the Speaker was zoned to the North, after Salisu Buhari was removed due to the certificate forgery as Speaker, everything that was done by the Obasanjo regime to remove Na'Abba and encourage Northern House of Reps members to take over from N'Abba was resisted, nobody agreed. Whereas, Obasanjo went after Okadigbo using Igbo to remove him and picked Evans Enwerem. He could not do that to the North. The Igbo started destroying themselves because they wanted to taste the senate Presidency. So, we feel for the Igbo for the marginalization they are suffering in the hands of the Federal Government and that was why in the ADP, we have zoned our presidential ticket to the South East in 2019
You were a founding member of both the PDP and ACN which is now APC , what do you think was the problem with these parties that pushed you out?
The APC that you see today in Edo, before it was ACN which started in my sitting room as ANPP. After my governorship election, which I ran under the ANPP, Chief Anenih de-registered Lucky Igbinedion and his people in PDP then. Lucky Igbinedion, Sam Iredia and Capt Hosa came to me and said they wanted to join us. We then arranged it, Lucky brought the state chairman in the person of Tony Omoaghe while I brought the state secretary Gentleman Amegor. I brought Reti Uzzi as Publicity Secretary while Igbinedion brought in Madam Modino Emovon as state women leader. We shared the 18 Local Governments, 13 of them were ANPP chairmen while five were PDP chairmen. That was how AC came to Edo. Lucky Igbinedion was governor then. He supported us because he had been deregistered in PDP by Anenih. That was why on the day PDP went to campaign in Oredo, I chatted with Lucky Igbinedion and he said 'my leader, we are going for campaign today, what do I do, you know I cannot condemn you people'. I laughed and I told him to go there and describe us as 'AC without compressor'. And that was how he described us that day because Chief Anenih thought he was smart but Lucky wanted to tell him that he was smarter. They were playing games then. That was how we frustrated PDP out of power in Edo state and Oshiomhole became governor. When Oshiomhole came, he worked with the good, the bad and the ugly and he did very well. Initially Ize-Iyamu and his group wanted to confuse Oshiomhole on the issue of appointments. They went to report me to the Oba that I was anti-Benin. But I explained to Oba Erediauwa of blessed memory, that I only told Oshiomhole to maintain the tradition by appointing the chairman Local Government service commission and SSG from Edo North because that had been the tradition. So the Oba commended me after I explained to him. So what you see today as APC was an amalgamation of ACN, CPC, part of PDP and ANPP. It is an angry organization. If it was the ACN alone without these other parties that formed what is known today as APC, they would not have had this problem they have today. When we formed ACN we tried to copy the UPN pattern, which was party discipline. The problem I had with them in ACN then was that they started giving tickets to new members who came from the PDP leaving out the old members who built the party. They took advantage of Oshiomhole's large heart to do that but that led to my exit from that party. So if ACN was the one that built itself up nationally without bringing others into it, they would not have had the problem they have today. Today there is no APC, it is an assembly of the ungodly like the PDP.
When I went back to the PDP, I thought we would be allowed to sanitize the party but the god father would not allow us lead the party democratically. For instance, Chief Anenih would be in Uromi and would decide who would be the chairman in my local government as well as the delegates. Unfortunately for the PDP, some of its chairmen actually destroyed it. Apart from when Okey Nwodo was chairman, then a bit of Solomon Lar, and Audi Ogbe, other PDP chairmen ruined the party. They killed the party. Audi Ogbe was forced out at gun point at the Villa while insisting on party supremacy. Other PDP chairmen were palace jesters. While they were destroying the party at the national level the same thing was happening in states like Edo where Chief Anenih would always impose delegates for elections and dropping people he felt were not bowing down for him. So you cannot expect someone like me to be there.
The final straw was during the governorship election. I went to meet Chief Anenih and asked him to disclose his interest in the primaries but he said he had no interest and that Solomon Edebiri had met him. He told me that everywhere he went, people were recommending Edebiri as PDP candidate, I commended him and I told him that Edebiri was the candidate I had in mind. He said all of them should be working. But three weeks to the election, somebody told me about a meeting in Auchi that Chief Anenih had directed all of them to vote for Pastor Ize-Iyamu in the primaries. I drove to Chief Anenih's house and I asked him. I reminded him that people supported Lucky Igbinedion as governor because he performed as chairman of Oredo but that it was the same person he was telling people to support that gave that administration a bad name. I told him I would not be part of Ize-Iyamu's campaign. I was in this state when I was running an election against Anenih and others when they went to tell a lie that I kidnapped INEC officials. I knew those who went to Agbor to pay for dead bodies in the mortuary to try to replace those bodies they said I kidnapped. As a sitting senator I was detained for 18 days at the state CID. If the police had not done their work and carried out a raid, those boys they wanted to use against me would have been flown out of the country and they would say I abducted them just to frame me up. I told Chief Anenih I knew those who did that to me but that if it was Ize-Iyamu they were nominating I would not be part of it. And as soon as they gave the ticket to Ize-Iyamu, I called my people and told them that if Pastor should become governor, he would fight all of us but if Obaseki won, he may not do anything to us but he would not fight us. So I told them, gentlemen all of you should vote for APC. And our people voted for Obaseki. In Uhumnwonde Local Government where I come from, PDP could not get any evidence to go to tribunal against Obaseki because there was nothing to get. I worked against the PDP and I did not hide it. But after that election, I did not want to join APC even though I supported Obaseki. Myself and other well meaning Nigerians decided to form Action Democratic Party (ADP) and I thank God we have members across the country today.
You supported Obaseki against the candidate of your former party, how will you assess his administration so far?
Obaseki was my candidate and I voted for him. I did that as a rebellion against the irresponsibility of the PDP. Chief Obafemi Awolowo told us at a meeting of governors of UPN, Jakande, Bola Ige, Ajasin and members of the National Assembly were there. He said governors, if you like go and use gold to tar roads but when you use gold to tar the roads and you are not an independent candidate, your party members are not happy with you because they are hungry, your gold will mean nothing because how would they drive on the road when they don't have money to buy cars. He went on to tell them that as they were using gold to tar roads they should carry their party members along. Governor Obaseki is doing well. He is working on several roads and the city is becoming more organized and cleaner. But the problem is that he is too far from his party members. The truth is that as an opposition party, we are happy with his style of leadership. He is working for the people but his party is being destroyed, no synergy between his work and his relationship with people and his party members. So this will help me harvest most of them into my party before 2019. As my brother, I want to advise him to know that party is supreme, he is not an independent candidate. If your party is not happy with you, you are like a man who is marrying a wife that is not happy with you. He is a gentleman I know but he should learn from his predecessor Oshiomhole. Oshiomhole was able to bring him because Oshiomhole was nice to the general public. He cared for them like his own people, he would eat and drink with them and that was why when he told them 'I prefer Obaseki to succeed me' he was able to pull it through. Oshiomhole was nice to people and he still worked to the admiration of many so I think Obaseki should strike that balance too. I always hear him say he is not a politician, I don't think that is right because you benefited from the politics of others, when you say that, you make your people look like they are fools. I speak with APC leaders everyday, they are all in pains, in fact most of them have taken their complaints to God. It is not really good but it is good for us in the opposition because I believe that the governor's thinking now is that the war is over so nothing will happen. But he should go and ask Oshiomhole how he (Oshiomhole) was able to conquer. He used people inside PDP to destroy PDP, so who tells Obaseki that people cannot use his party members to destroy APC. As a Benin governor we pray he succeeds but he must be careful not to ruin his party.
My advise to him is that he should not allow the College of Education Ekiadolor to die. The UPN regime in Bendel inherited that college and the College of Education Abraka from the military. He should also ensure that the Tayo Akpata University is functional. Ekiadolor can be relocated to Abudu with the staff. I also want to urge the governor to liaise with the University of Benin and the Federal Ministry of Education to make the St Kizito College, now Elaiho Grammar School Eguaeholor-Isi, a campus for the Agric department in UNIBEN or alternatively hand over the College to the original owner, the Catholic Church.