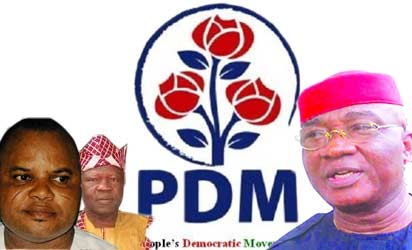 Senator Ifeanyi Ararume, Alhaji Shuaib Oyedokun and Chief Dubem Onyia
By Dirisu Yakubu
ABUJA—THE Peoples Democratic Movement, PDM, has constituted a national advisory council to chart a new course for the party ahead of the 2019 general elections.
The council which was constituted over the weekend in Abuja has as chairman, Chief Frank Igwebuike, a veteran politician.
In his speech after his emergence, Chief Igwebuike expressed the readiness of the PDM to give the nation purposeful governance even as he took a swipe at successive administrations for failing to make the most of their stewardships.
He said: "We are totally committed to offer Nigerians a new deal in all aspects of our national life, in a bid to make Nigeria great again. Starting from the economic sector, once we have the mandate of the people, we shall declare bank holidays within which we shall open the doors to the private sector to partner with government. and advise it on ways and means to mainstream the country's abundant human capital to revive the nation.
We shall bring on board a credible leadership and enduring political principles based on internal democracy and respect for diverse ideas and alternative views. Since leadership is about transparency, accountability and discipline, built on strong institutions and enduring infrastructure, we have all that is needed to deliver on our mandate, when the citizens trust us with their votes," Igwebuike said.