Mr Olisa Agbakoba, a Senior Advocate of Nigeria (SAN), has  advised  Nigerians to take their destiny in their hands by getting involved in the electoral process to enthrone good governance.
He gave the advice on Wednesday in Abuja at the Grand National Summit and official launch of the Grand Political Coalition on the future of Nigeria.
The theme of the summit, which was facilitated by Nigeria Intervention Movement (NIM), was: "Birthing a new Equitable and Prosperous Democratic Nigeria in 2019 and beyond."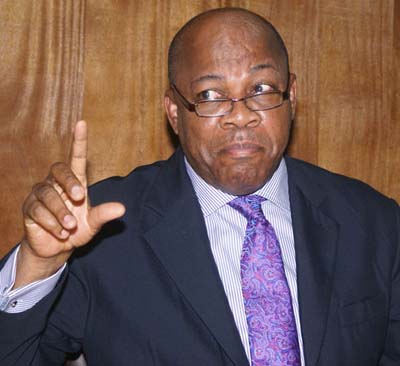 Agbakoba, who hosted the summit, said the immediate agenda of the NIM was to impact on 2019 elections, saying that it could not, however, achieve the feat alone.
He added that the cooperation and commitment of Nigerians were critical to enthrone good governance in the country in 2019 and beyond.
"To displace the All Progressives Congress (APC) and the Peoples Democratic Party (PDP) will be a rough fight; we all have to be committed.
"The first task is to get our voters' cards; prayers alone cannot enthrone good governance; to break the bondage of bad government, we have to fully participate in the electoral process," he said.
Agbakoba, however, said that money was needed to prosecute the course of the movement, but not money from big bag corrupt politicians.
He expressed optimism that with 30 million youths on its fold, the NIM would be able to enthrone good governance in 2019.
Prof. Wole Soyinka, at the event, advised members of the movement to exercise unrelenting vigilance if it must achieve its objectives.
"Prowling around you already, are those recurrent interlopers whose sole aim is to hijack your efforts or infiltrate your ranks with their stooges.
"Experience spoilers, they are part and parcel of the very predicament you are trying to alleviate, " he said.
According to Soyinka, such persons are responsible for the country`s current challenges, adding that they are adept at distorting history in order to acquire a false, sanitised identity.
He further advised the NIM to be jealous of its identity in the making and protect the integrity of its mission.
Soyinka said that having studied members of the movement, he was confident that "both qualitative and quantitative shifts are possible in the desired direction.
We shall diligently monitor your progression towards the promise of that ministering tree" .
Prof. Pat Utomi, who spoke to delegates at the summit via a video recording, commended the initiative of the movement and stressed the need for Nigerians to be armed with their voters' cards ahead of 2019.
This, he said, was critical to have the leadership they desired.
Newsmen report that delegates at the summit registered with N500 each, to raise funds for the movement.
The summit was attended by political stakeholders, some Civil Society Organisations and National Chairmen of some political parties.
NAN