No fewer than 2,278 cataract patients underwent  the final screening of this year's free cataract treatment  annually organised by Rotary Club of Lagos Palmgrove Estate. From the pool, 1,400 have been slated for free surgeries at the Lagos State General Hospital, Lagos from February 20 through March 6, 2018.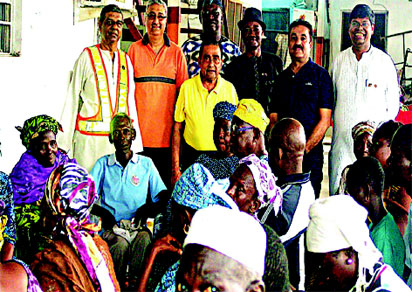 In a chat with Good Health Weekly during the screening that took place at the  Indoor Eye Foundation Hospital , the President, Rotary Club of Lagos, Palmgrove Estate, Atul Kshetry  said the programme is part of the club's Mission for Vision programme to restore sight to the less privileged.
He said the screening started in September, 2017 with 23 Clubs participating, and every year, the club  provides 1,400 people with quality free cataract surgeries.
He explained that the Indoor Eye Foundation hospital which is being put up by the Indian community based in Lagos in collaboration with the Rotary Club of Lagos Palmgrove Estate and Rotary Club of Lagos Island, among others, when completed would be used for the free surgeries.
"When this is completed, free cataract surgeries will become a routine here in this hospital instead of once every year.The doctors that would be working here will be the ones conducting the eye surgeries instead of importing doctors from India. But be assured that poor people will get help free of charge for their eye surgeries", he said.
While acknowledging that preventable blindness has become a major public health concern in the world, he urged the Federal Government to pay attention to eye care in Nigeria.
One of the Indian surgeons and a Senior Eye Surgeon from the Mission for Vision programme, Dr. Bhavesh Patel, said the screening was to identify patients with hypertension, diabetes, other ailments and potential beneficiaries for the free cataract operation.Patel said cataract normally develops  from  age 40 and above due to aging and that studies have linked some eye problems to inadequate food intake.
"Most of the patients we have seen so far have cataract and refractive errors which can be corrected with lenses. Glaucoma has no treatment unless it is detected early.  Cataract can be treated with surgery.
There is need for people to get an eye check-ups at least once anually", he said adding "Some factors responsible for the rising incidences of eye problems include; inadequate food intake which affects the body's metabolism, injury, violence and trauma.Due to these reasons, we are now seeing cataract in people at the age of 30 and 40 years.  Violence is also increasing nowadays and it's also a threat to healthy eyes and that is why we are seeing eye problems mostly in younger patients''.