South Africa's African National Congress (ANC) leader Cyril Ramaphosa said on Sunday that Zuma's exit should be undertaken in an orderly fashion just as the anti-apartheid icon Nelson Mandela would have handled it.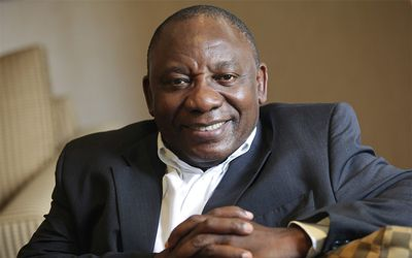 Ramaphosa made this known while Speaking at a rally as part of celebrations marking 100 years since the birth of former President Nelson Mandela.
He said the party's executive body would meet on Monday to finalise discussions on the future of President Jacob Zuma, who is under mounting pressure to step down.
The 75-year-old Zuma, in power since 2009 and mired in corruption allegations, has been living on borrowed time since Ramaphosa took over his other role as leader of the ruling party in December.
Addressing ANC supporters in Cape Town, Ramaphosa, who is deputy president, said: "The National Executive Committee of the ANC will be meeting tomorrow to discuss this very matter, and because our people want this matter to be finalised, the NEC will be doing precisely that."
The party's National Executive Committee has the power to instruct Zuma to resign.
Though he avoided mentioning Zuma by name, Ramaphosa spoke several times of a "transition of power" in reference to talks on Zuma's future and said the ANC wanted to resolve issues around the "president of the country".
In a speech which also marked 28 years to the day since Mandela was released from an apartheid-era prison, Ramaphosa said the talks on Zuma's future should be handled in an orderly, purposeful manner, "in Madiba's way of doing things," – using Mandela's clan name.
Ramaphosa was at Mandela's side, holding a microphone, when the leader addressed thousands outside Cape Town's city hall on the same day 28 years ago after his release.
Ramaphosa had earlier on Sunday attended a service at Cape Town's Anglican St George's Cathedral.
"We leave this church well armed with the good blessings and prayer … so as the leadership of the ANC we have been well empowered as we move ahead… and as we manage this transition," Ramaphosa told reporters.
St George's Cathedral was at the forefront of the anti-apartheid struggle and during a Christmas mass service last year its Archbishop Thabo Makgoba called on the new ANC leadership to act "quickly and decisively" to replace Zuma as head of state.