By Egufe Yafugborhi
Governor Nyesom Wike of Rivers State has signed the 2018 Appropriation Bill of the state into law.
The governor  signed a budget of N510 billion  passed by the  Rivers State House of Assembly.
Signing  the budget in the presence of members of the state House of Assembly and the State Executive Council at Government House,  Port Harcourt, yesterday,  Governor Wike assured that the budget will be implemented diligently.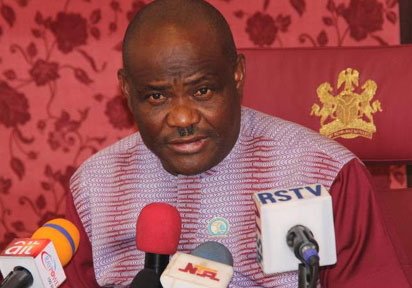 He said that the Rivers State Government  will fast track  the implementation  of the  budget, which  will lead to greater development of the state.
"I commend the state legislators for expediting the  process that led to the passage of the 2018 budget.  Your passage of this budget means that we will expedite  action in several areas of development.  At present, we have already started work," he said.
The governor also called on the lawmakers to work with relevant agencies  to implement their respective constituency projects.
He said that funds for the implementation of the 2017 constituency projects had been released , while  that of 2018 will be released after  proper account was given for that of last year.
The governor also signed the  Keenule Beeson Saro-Wiwa Polytechnic Law No. 3 of 2018, Rivers State Waterways Law No. 4 of 2018 and Rivers State Local Government Law No. 5 of 2018.
Speaker of the Rivers State House of Assembly, Ikuinyi Ibani assured Wike that the state Lawmakers were committed  to the development of the state.
He described Governor Wike as a just leader, who is working selflessly for the good  people of the state.
Presenting the bills for assent, Majority Leader of the Rivers State House of Assembly, Martin Amaehwule said that the bills passed through a rigorous legislative process.
Chairman, House Committee on Information, Sam Ogeh noted that the  public hearings and budget defence sessions ensured that the people participated in the budget process.