By Egufe Yafugborhi
GOVERNOR Nyesom Wike yesterday said the elimination of Don Waney and dislodgment of his reign of terror in Omoku and entire Ogba Ndoni Egbema local government area, Rivers state has brought invaluable relief to oil companies in the locality who should be grateful to him.
The governor made the remark at the state Ministry of Women Affairs shortly before performing groundbreaking for the Port Harcourt Women Development Center, a project being sponsored by Total E & P Nigeria Limited, along with NNPC and other partners to improve women empowerment in the state.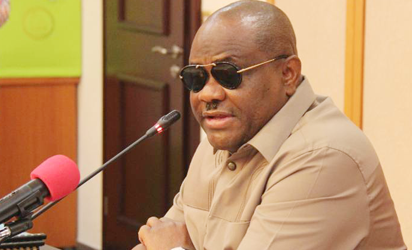 Wike told the company management that, "Total and other oil companies in ONELGA cannot pay me or be thankful enough for what I have done for you by stopping the killings and all forms of criminalities in the area.
"I am serious because I know what it used to cost you. I know how much you use to give to them so that your operations can go on. We have the records and facts. Now that we have dislodged them, they won't have to trouble you anymore. That should make you do more development in the state"
Managing Director/Chief Executive, Total E&P, along with other partners, said on the occasion that the Women Development Center, to be completed 
within six months
 was part of the company's efforts at keying into the United Nations Sustainable Development Goals.
The Tota boss's remarks, presented by Engr Vincent Nnadi noted that, "This project is a unique opportunity for young women to acquire various skills to enable them augment their family income and improve overall well being of their families,communities and the state."