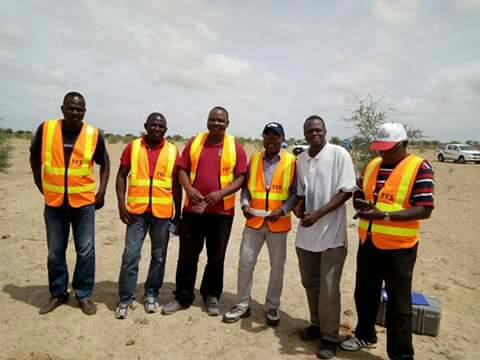 Some of the UNIMAID geologists brought to Maiduguri dead, some still missing
Jihadist group Boko Haram has released 13 hostages, including a group of oil explorers and policewomen, that it held captive for more than half a year, the Nigerian presidency said on Saturday.

The three oil explorers are lecturers from Maiduguri university, in northern Borno state, who were kidnapped while searching for oil in July last year.
Their exploration team was ambushed by Boko Haram in an attack that killed at least 69 people, one of the bloodiest assaults of 2017.
A group of 10 women were also released, including police officers and civil servants, who were kidnapped near Maiduguri in June.
Police initially denied the kidnapping until Boko Haram released a video weeks later showing the woman pleading for their freedom.
"Their release followed a series of negotiations as directed by President Buhari and was facilitated by the International Committee of the Red Cross (ICRC)," said presidency spokesman Garba Shehu in a statement.
"All 13 rescued persons are in the custody of the service and are on their way to Abuja with the assistance of the Nigerian Army and the Air Force."
Maiduguri, the capital of Borno state, has been at the epicentre of the Islamist insurgency that has devastated the northeast of the country.
– 'Looked in good health' –
According to military and vigilante sources in Banki, a former town that is now a camp for internally displaced people on the Cameroon border, ICRC vehicles arrived around 12:45 pm on Saturday and drove into the bush.
They returned around 4:30 pm with the 10 women and three men, who were then flown in four helicopters — two ICRC, one military, one police — to Maiduguri.
"It's true the 10 women have been released by Boko Haram through the ICRC officials who arrived this afternoon," said a vigilante leader, "they (the women) didn't talk to anyone, they looked tired but apparently in good health."
It is not known at this stage whether a ransom was paid or if any Boko Haram prisoners were swapped in exchange for the hostages, as has happened in the past.
"The armed opposition handed the 13 people over to ICRC representatives who transported them to Nigerian authorities," said the ICRC in a statement, adding that it did not participate in negotiations.
"This action was similar to what the ICRC did in October 2016 and May 2017, when we transported the released 'Chibok girls' to Nigerian officials."
Last year, five Boko Haram commanders and an undisclosed amount of money were swapped for 82 of the more than 200 kidnapped Chibok schoolgirls.
Boko Haram's capacity has been weakened since 2014 when it controlled swathes of territory in northeast Nigeria but it still poses a threat.
At least 20,000 people have been killed in nearly nine years of violence and more than 2.6 million made homeless, triggering a humanitarian crisis across the Lake Chad region.