By Muoka Lazarus
Brethren, today, the old year is departing from us in order to allow a New Year to emerge and our witness-ing this great phenomenon signifies that the mercy of God is upon us, for not all that started the year are witnessing its end. It is a great privilege that we are alive to observe and rejoice in it.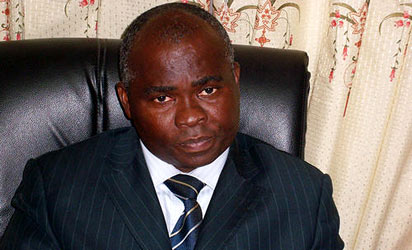 Many desired to have this adv-antage but their wishes turned to be an imaginary dream. If we therefore are favoured by His providence to see the end of this year, what then shall be our appreciation toward Him who has preserved us?
What shall be our response to His mercy and compassion that didn't fail us? Shall we continue in sin that His grace shall continue to abide with us in the New Year? God forbid. It is prudent that we should pause to appraise our doings and amend our ways because the purpose of God's goodness and forbearance is not to encourage sin, but to appeal to man's conscience and give him opportunity to repent.
Romans 2:4 says: "Or despisest thou the riches of his goodness and forbearance and longsuffer-ing; not knowing that the good-ness of God leadeth thee to repentance?"
Beloved, those that have exper-ience the riches of God's good-ness and mercy need not to be reminded of their obligation to serve the Lord. It should be their natural desire to adore and worship the Lord without being persuaded.
That God had not come forth in judgment and cut them off as He did to those that couldn't witness today doesn't suppose that he did not regard them as sinners, but it is meant to give them opportunity to repent, and be saved.
We must understand therefore, that it is not because the sentence against evil work is not executed speedily, that we should allow our heart to be fully set to do evil. We are not better than those that have gone without seeing today, for this reason, we should use the occasion of the gift of life given to us today to repent and surrend-er to Christ.
As we march into the New Year, it is imperative we make a decision on which path to follow, this is because our decision will deter-mine our security. We are aware that resolution has become a tradition among the people of the world.
While some resolve to depart from negative lifestyle, we the Children of God should not only depart from sinful life but also prepare to defend our faith by living a more godly life and making disciples of all nation.
The year may portend more uncertainty than the previous year, but amidst the insecurity that hangs on its horizon God shall make the chosen ones to rejoice. It shall be well with those who have taken decision to be pure, holy and be on the side of God in action and deed.
The choice is yours to continue in sin and be destroyed or stand on Christ Jesus the rock, the Solid ground and be saved. You cannot afford to sit on the fence for today is the day of decision. Are you ready to do away with sin? Frankly, delay in making a decision now is a threat to your dear life. You cannot claim to be a Christian and at same time denying Jesus. Choose today who you will serve.
Joshua 24:15 "And if it seem evil unto you to serve the LORD, choose you this day whom ye will serve; whether the gods which your fathers served that were on the other side of the flood, or the gods of the Amorites, in whose land ye dwell: but as for me and my house, we will serve the LORD".
In the days of Joshua, a situation that called for absolute decision making such as we found ourselves today arose, and Joshua juxtaposed before his people the distinction between serving God and idol. He made the Israelites understood what God had done for them and all that they suffered under the influence of other gods and enemies.
And thus, he persuaded them to serve that God who delivered them from the nations greater than them. However, he cautioned them that they that serve God must serve Him with an upright conscience for that is the only acceptable service.
Beloved, God has delivered us last year from the hands of rituals and kidnappers, from road accidents, from the flying bullets of armed robbers and insurgents, from premature death, religious intimidation and arrows of the enemies, from sicknesses and diseases and has brought us to the end of the year.
He has demonstrated His love toward us by sustaining us with grace, granting us enduring mercy and ensuring that His compassion fails us not. He has fought battles known and unknown to us and today none of our hair has fallen.
Many of the barren have conceived, the deaf hear, the blind see, many old lives have turned a new leaf and above all we are alive to witness today. Therefore, I charge you to choose today who you will serve. As for me and the Chosen people, we shall not only serve the Lord, but shall also make the world know that Jesus is the Lord. We shall make Jesus King of kings and Lord of lords. We must show forth the praises of Him who has called us out of darkness into His marvellous light.
If the entire world will turn away from choosing God, we the Chosen people are bound to cleave to Him for we are witnesses to His power to deliver the oppress, heal the incurables, transform lives, restore sanity to the insane, cause the barren to conceive, the poor to gain wealth, make armed robbers, cultists, sorcerers, etc to surrender to Christ. He is the God with us, thus, we have no other God or place to go for there is no refuge in any other than in Christ Jesus and there is no other heaven than where Christ rules as the King.
We know none besides Him to whom we should go, and expect that happiness and security which we get from Him in The Lord's Chosen. And above all, we are citizens of His Kingdom.  We are bound for heaven and therefore must be willing to swim against the stream, and must do, not as most do, but as God says.
Beloved, today is the day of decision. Do not be among the multitude in the valley of decision. Choose today who you will serve, Christ or Satan before the clock ticks off, for me the righteous God who is my glory that I will serve.