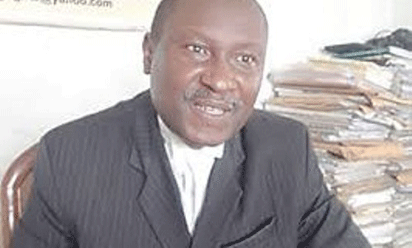 Oghenejabor Ikimi
By Jimitota Onoyume
WARRI—African Union has been urged to take urgent steps towards resolving the crisis in Cameroon, stressing that the move will  save Akwa Ibom and neighbouring states in Nigeria from the refugee problem that may spill out of the crisis in Cameroun  if left unchecked.
A lawyer and activist in Delta State, Mr Oghenejabor Ikimi, who  made the observation yesterday, called on the  international community to prevail on the Cameroonian President, Mr.  Paul Biya, to grant amnesty to  the separatist leaders in that country, adding that he should go ahead to also  set up a Peace Commission  where  aggrieved persons in  the country  could speak  on  the way forward.
He said: "To douse the uprising in Southern Cameroun, I call on the international community to prevail on President Biya, to use his presidential powers to grant amnesty to all the separatist leaders and fighters in the English speaking region of Southern Cameroon with a view to setting up a peace commission reminiscent of the Truths Commission in South Africa, so that the English speaking people of Southern Cameroon can use the above platform to ventilate their anger, anguish and complaint for immediate redress by the Biya-led government.
"The frightening fall out of the said uprising is the daily influx of refugees into Cross River, Taraba, Benue and Akwa Ibom States of Nigeria.
"According to Mr. John Inaku,  Director-General of Cross River State Emergency Management Agency, more than 40,000 Camerooonians have fled from their country on account of the crisis there and are presently taking refuge in Cross River State of Nigeria. The implication is that facilities are over stretched, coupled with the added financial burden on the host state."