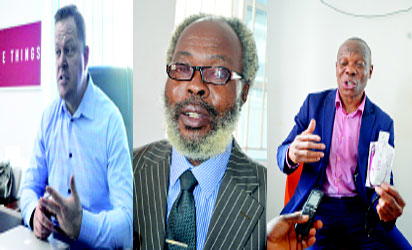 Mr Byron Belka, Dr Solomon Abutoh and Prince Francis Abutoh
…Holds seminar on benefits of Soul and Core nutritional products today
By Gabriel Olawale
Rain International, an international nutrition company has urged Nigerians to focus more on their health, noting that a healthy nation is a wealthy nation.
Speaking ahead of an International Seminar tagged: 'ASCEND NIGERIA' scheduled to hold today in Lagos, Founder and President of Rain International, Byron Belka said Nigerians are now busier than ever, noting that they find it difficult to exercise and consume natural fruits.
Belka further identified toxic environment and consumption of foods that are preserved with chemicals as harmful to Nigerians.
He said:  "When all these foods are accumulated in the body it causes the body to malfunction. That is why we are going to be educating Nigerians on how to live a healthy life through nutritional seeds.''
He noted that the seminar will avail Nigerians the opportunity of learning how best live a healthy life with seed nutrition products.
Corroborating his view, an Independent Marketer of Rain International products, Dr. Solomon Abutoh said the company introduced two seed products, 'Soul' and 'Core ' to help Nigerians live a healthy life.
He said: "Soul is good for energy, general maintenance of the body while Core is to detoxify the body and address issues like joint pain. It keeps the brain functioning at optimum level. As human beings age, brain cells tend to die but this product helps to reinvigorate the brain cells.
"Soul is the first entirely seed-based nutrition supplement providing the most concentrated source of nutrition nature has to offer in a bioavailable formula. Soul features a blend of some of the earth's most healthy seeds such as black cumin seed, black raspberry seed, and chardonnay grape seed. Each seed has its own proven benefits some of which will be elaborated during the seminar.
"Core helps to naturally soothe pain, regulates blood sugar, stimulates weight loss, and provides most daily vitamins and minerals. It is a powerful antioxidant, combats skin conditions and detoxifies. Soul can effectively decrease inflammatory process in the body, slow aging cells, increase energy, support cardiovascular functions, and contribute to optimal body weight, among others.
"Rain's ingredients are non-genetically-modified organism. This means their DNA hasn't been altered in any way. The nutrition contained in each seed is untouched just as nature intends. The product is also produced in such a way that it cannot be adulterated.''
Another marketer, Prince Francis Abutoh, said the product did not only offer health benefits but comes with financial benefits that help to empower the populace.