IT was another joyful day for members and friends of Inri Evangelical Spiritual Church, Oke-Afa, Lagos, as the General Overseer, Primate Elijah Babatunde Ayodele, dazzled them with gifts and mouth-watering auction sales.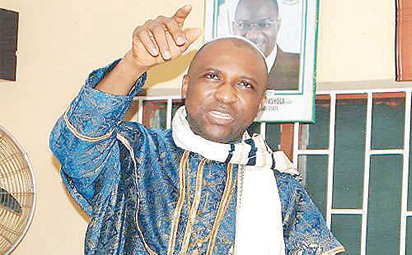 On Wednesday, February 14, in the spirit of Valentine's day, gift items worth over N10million such as Toyota SUV, Honda car among other items were given away in a Bazaar sales held at the church premises, Oke-Afa, Lagos.
A church member got as much as N250,000 just as the Toyota SUV and Honda car were given out for N20,000 and N6,000 respectively.
While some police officers were rewarded with cash gifts for their commitment to security of lives and property in the area, other beneficiaries including the Editor and publisher of City People, Mr Seye Kehinde were also given some items at the occasion.
Speaking to journalists after the event, Primate Ayodele said it was done in the spirit of love and care for members of the society.
In his national spiritual message at the occasion, Primate Ayodele said that the Lord has revealed to him that Nigerians will sing if President Muhammadu Buhari gets back to office for a second term but urged the President to step down for younger politicians such as the Senate President Bukola Saraki. Explaining why he mentioned Saraki, he stated that the Senate President would give Nigeria a big surprise and consolidate on the achievements of the President if he becomes the President of Nigeria.
He reiterated his position on Buhari's government having a tough dispensation in his fight against corruption.
"I had said earlier that fighting corruption is a very difficult task, yet it is something we must do to get the nation properly on its feet. But in doing that, corruption will fight back and the way it is fighting back presently is different. It is not fighting back because it knows it has the right to exist in the life of Nigeria; but it is fighting back because it just does not like the face of the man fighting him. This is the only President in 33 years of our history to fight corruption with resilience," he stated.