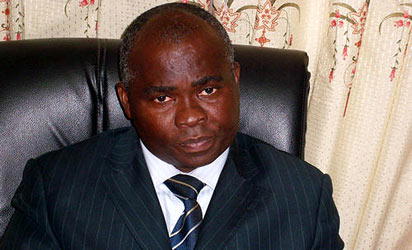 *Pastor LAZARUS MUOKA
By Muoka Lazarus
Brethren, we in this part of the world should be in the mood of prayer because the situation we came to find our-selves demands by its merit a fervent and passionate prayer.
This is because we have been boxed into a tight corner by circumstances of events of history of our country and we couldn't help ourselves nor find a rescuer to come to our aid.
Government has failed us; our leaders have failed us, so also the society has failed us. Above all, the devil and his human agents have gone haywire in attacking the Church of God and genuine ministers of God, it has become very dangerous to openly serve the Lord, so our only option now is to pray to the Almighty God to inter-vene in our plight and give ans-wers to our prayers.
Our consolation is that our God is a prayer answering God and we totally rely on Him to give answer to our prayers. He answered the chosen ones in the Bible, such people like Moses, Aaron, Joshua, Samuel, David, Solomon and Peter, Paul and Silas.
Psalm 99:6 says: "Moses and Aaron among his priests, and Samuel among them that call upon his name; they called upon the LORD, and he answered them."
When God designs mercy, He puts it into the hearts of His people to pray for the mercy designed. When such a spirit of prayer is poured out, the mercy that it evokes prevails against any judgement meted for it, thus answer is given to the prayer. These notable chosen people of old made God's word and law their rule, knowing that they could not else expect that their prayers should be answered. They all wonderfully prevailed with God in prayer and miracles were wrought at their request.
They pleaded to God for the people, and obtained answers of peace. Our Prophet and High Priest, Jesus Christ our Lord, who has greater dignity than Moses, Aaron, or Samuel, has received and declared to us the will of the Father. He encouraged us to pray whenever we are in need, and assured that our Father will give answer to our supplications that are according to His will.
No matter your condition or situation, the same God that answered Moses and the apostles of old is still alive to answer your prayers in Jesus name. Paul and Silas were accused, bound and tortured yet they prayed and praised God and God heard them and answered them. In any situation, if we cry to God, He will answer us in Jesus name.
I Timothy 2:8 says: "I will there-fore that men pray everywhere, lifting up holy hands, without wrath and doubting".
The above verse captures the position of God as far as prayer is concerned. Under the gospel, prayer is not to be confined to any one particular in the house of prayer, but men must pray every-where. We must pray in our closets, pray in our families, pray at our meals, pray when we are on journeys, and pray in the solemn assemblies, whether in public or private. We must pray in faith, without doubting, and without disputing.
The above verse also made us to understand that if we are to expect answer to our prayer we must ensure that we appear before God with holy hands devoid of any atom of wickedness and doubting. So as you pray ensure that your heart is full of purity devoid of anger and unbelief and the Lord will accede to your request. This is because heartiness and sincerity in seeking God insure a gracious answer.
James 5:15 says: "And the prayer of faith shall save the sick, and the Lord shall raise him up; and if he have committed sins, they shall be forgiven him".
The Lord answers prayers made with true faith in God. In the above the Scripture shows the good effects of prayer. The Bible did not ascribe the sick man's recovery to the oil, but to the prayer. The prayer of faith shall save the sick.
Mark 11:24 says: "Therefore I say unto you, What things soever ye desire, when ye pray, believe that ye receive them, and ye shall have them".
Jesus here lays down the broad rule in the application of which we must be guided by. The rule is, we must not expect to obtain that which is unlawful for us to desire nor must we selfishly run counter to the will of God. We must keep away from sin or anything that resembles it because it hinders prayers. These sins may be faithlessness, unbelief, unforgive-ness, complaining, murmuring, bitterness etc.
Isaiah 59:1-3 says: "Behold, the LORD's hand is not shortened, that it cannot save; neither his ear heavy, that it cannot hear:  But your iniquities have separated between you and your God, and your sins have hid his face from you, that he will not hear.  For your hands are defiled with blood, and your fingers with iniquity; your lips have spoken lies, your tongue hath muttered perverseness".
No one prays in sin and expects his or her prayers to be answered and so if you must pray, please endeavour as believers to confess and renounce all known and unknown sins and He will surely meet you at the points of your needs in Jesus name.
The above scriptures have become necessary given that many have prayed and are still praying without answers to their prayers and hence if you must pray you must do so with purity of heart, holiness and you will be answered by Him.
The Lord has assured us that whenever we call upon Him He will answer us as we have seen Matthew 7:7-11 says, "Ask, and it shall be given you; seek, and ye shall find; knock, and it shall be opened unto you:  For every one that asketh receiveth; and he that seeketh findeth; and to him that knocketh it shall be opened.  Or what man is there of you, whom if his son ask bread, will he give him a stone? Or if he ask a fish, will he give him a serpent?  If ye then, being evil, know how to give good gifts unto your children, how much more shall your Father which is in Heaven give good things to them that ask him?
Pray according to the will of the living God and He will give you answers. Let us not only exalt the Lord with our lips, but give him the throne in our heart; and while we worship Him upon His mercy-seat, let us never forget that He is holy.