By Muoka Lazarus
Isaiah 65:24 says, "And it shall come to pass, that before they call, I will answer; and while they are yet speaking, I will hear".
The God of Chosen is a prayer answering God. This is one of His titles of honour. He is the God that hears prayers and it is as truly ascribed to Him as mercy or just-ice is ascribed to Him.  He hears all prayers and that is why all flesh come to Him.
\He never rejects anybody that deserves answer to prayer, no matter how weak or unworthy the petitioner is. He only requests the supplicant to con-form to His nature of holiness. The Scripture says He is a rewarder of them that diligently seek him.
As sure as God is the true God, so sure is it that none who sought Him diligently departed from Him without a reward. Our God re-wards all seekers, and if all, why not you? Every right and sincere prayer of a chosen is as surely heard as it is offered.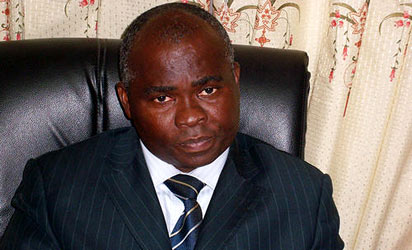 You may have been in a particular place in time past and no answer has been given to your request, I want you to try the God of Chosen. He is a prayer answering God as long as you are a child of God that is living right and if peradventure you are not, as you decide to pray in repentance with a broken heart, my Lord will answer you today in Jesus name. God promised to answer us as soon as the prayer is formed in our hearts before they could get out of our lips.
We, the chosen people have lots of evid-ences in our midst to prove that God answers prayers. Thus we take time to celebrate testimonies because every one of us has one testimony or another to give on daily bases. This does not mean that the chosen people are exempt-ed from trouble; but they have God's promise that in all their trials He will be with them and deliver them and make them partakers of His everlasting salvation. As He gives answers to the Chosen people so also He does to all that keep to the precepts and practices of the Scripture.
Psalm 65:1-2 says, "Praise waiteth for thee, O God, in Sion: and unto thee shall the vow be performed.  O thou that hearest prayer, unto thee shall all flesh come".
God does not dispense His mercy from a slender store but out of the abundance He pours forth the infinite riches of His mercy. His goodness flows forth in abound-ing streams towards those who pray and in adoring worship make mention of His name. Every man's praise goes to God, so also every man's prayer waits on Him for answer. All flesh depends upon God for life and breath and all other things.
I John 5:13-14 says, "And this is the confidence that we have in him, that, if we ask any thing according to his will, he heareth us: And if we know that he hear us, whatsoever we ask, we know that we have the petitions that we desired of him".
Our Lord Jesus Christ emboldens us to come to God in all circum-stances, with all our supplications and requests. Through Him our petitions are admitted and accept-ed by God. The matter of our prayer must be agreeable to the declared will of God. It is not fit that we should ask what is contra-ry either to His majesty and glory or to our own good, who depended on Him. And then we may have confidence that the prayer of faith shall be heard in heaven for God will never suffer anybody who sincerely asks according to His will to lack.
The advantage accruing to us by such privilege is that if we know that He hears us, then whatsoever we ask, we should know that we have the assurance that we shall receive it. Great are His deliver-ances, mercies, and blessings, which the holy petitioner enjoys. To know that our petitions are heard or accepted is as good as to know that they are answered.
In our services we do not pray for ourselves alone, we pray for others as well as for ourselves; for our brethren that have not accepted Jesus Christ as Lord and Saviour, that they may be enlightened, converted, and be saved; for our brethren in the Christian profess-ion, we pray that they may be sincere, that their sins may be pardoned, and that they may be delivered from evils and the chastisements of God, and be preserved in Christ Jesus.
Yes we pray for their deliverance from evil because so long they are in the flesh the enemy is bound to attack. But such temporal attacks are sent by God to remind men of their sins, and lead them to repent-ance, that they may escape ever-lasting punishment.
II Chronicles 6:26-30 states, "When the heaven is shut up, and there is no rain, because they have sinned against thee; yet if they pray toward this place, and confess thy name, and turn from their sin, when thou dost afflict them; Then hear thou from heaven, and for-give the sin of thy servants, and of thy people Israel, when thou hast taught them the good way, wherein they should walk; and send rain upon thy land, which thou hast given unto thy people for an inheritance. If there be dearth in the land, if there be pesti-lence, if there be blasting, or mil-dew, locusts, or caterpillers; if their enemies besiege them in the cities of their land; whatsoever sore or whatsoever sickness there be: Then what prayer or what suppli-cation soever shall be made of any man, or of all thy people Israel, when every one shall know his own sore and his own grief, and shall spread forth his hands in this house: Then hear thou from hea-ven thy dwelling place, and for-give, and render unto every man according unto all his ways, whose heart thou knowest; (for thou only knowest the hearts of the children of men:)"
The prayers of hypocrites cannot be heard, nor of any but of them who pray to God with a true faith and in true repentance. The above verses were the intercessory pray-ers made by King Solomon for the Children of God in which he asked that God would help them in answer to their prayers. He prayed that God would hear from His dwelling-place and forgive them when they would have dealt with their sins.
The forgiveness of our sins is that which makes way for all the other answers to our prayers. When prayers are made in the right way, there is every assurance that answers will be given because God returns in mercy to His people when they repented, and reformed, and sought after Him. Are you experiencing challenge in any area of your life, whether spiritual or physical, I urge you to pray for I am sure the Almighty God will answer you today in Jesus name.