By Iheamnachor Davies
ASABA—Governor Nyesom  Wike of Rivers State has said the Peoples Democratic Party, PDP, will win the Presidential election  in 2019 because Nigerians yearn for the return of pro-people leadership.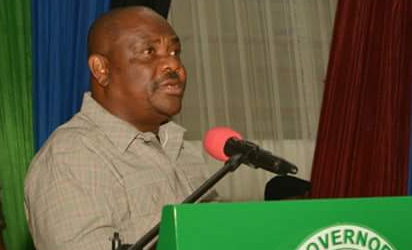 The governor declared  that though All Progressives Congress,  APC, Federal Government and electoral officials were plotting to subvert the will of the people, they will be resisted by Nigerians.
He spoke in  Asaba, Delta State, Sunday night, during a meeting of National Working Committee and PDP Governors Forum.
According to Governor Wike, if democratic principles are respected, those pretending to be seeking a second term after a woeful performance would have declined  contesting elections.
"We are going to win the presidency in 2019. We take it for granted  that we have won our governorship, National Assembly and State Assembly seats," he said.
He said currently, PDP governors are orphans in Abuja, hence the need to take over leadership at federal  level.
The governor added: "Frankly speaking, if Nigeria is a country where democracy is democracy, so many won't talk about  contesting election, because  first of all you need to tell the people what you have done for  them."