By Dirisu Yakubu
The Peoples Democratic Party (PDP), yesterday, condemned the murder of 41 Nigerians allegedly by marauders in Zamfara State. The party also bemoaned what it called "the continued failure of the All Progressives Congress (APC)-controlled Federal Government to take decisive steps to end killings in various parts of the country," the latest being Wednesday's massacre.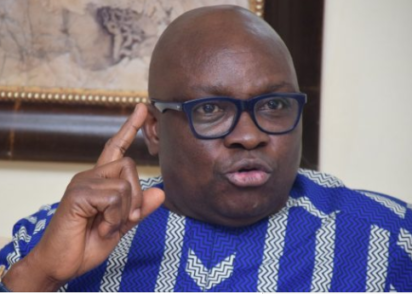 The PDP spoke on a day Governor Ayodele Fayose of Ekiti State said the claim by his Zamfara counterpart, Abdulaziz Yari, that security agencies failed to stop the killings had vindicated his stance that no extra $1 billion was needed from the ECA to fund the fight against insurgency.
The party, in a statement by its National Publicity Secretary, Kola Ologbondiyan, lamented daily massacre of Nigerians, stressing that it was annoying that those elected to protect them were only thinking of fresh mandate in 2019.
"Hardly have tears dried over the gruesome killings in Benue, Taraba, Kaduna, Nasarawa and other states when marauders hit Zamfara, a state known for peace, killing 41 citizens in cold blood, yet all we get is mere lip service from the APC-controlled Federal Government.
"In the last two months, hundreds of helpless citizens have been murdered by bandits in various parts of the country and nothing concrete has been done by the federal government to end the butchery and bring the perpetrators to book".
Fayose, who spoke to journalists in Ado-Ekiti, yesterday, said funds being spent on security seemed not well used, as, instead of insecurity being curtailed, the nation was unfortunately witnessing more killings on daily basis.
In a statement by the governor's Chief Press Secretary, Mr Idowu Adelusi, he quoted Fayose as saying that if security agencies were not properly utilising the funds given them, "why giving them more."
Fayose also faulted the APC government of claiming glory for projects and policies put in place by the previous administration of President Goodluck Jonathan.
"The drone that President Jonathan launched some years ago, they now woke up now to say their government has achieved a feat in that regard. Maybe they think the people are fools and have no sense of history. Nigerians will show them during the next election," he added.