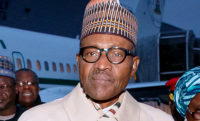 President Buhari arrives Paris Ahead of the One Planet Summit in France
By Dirisu Yakubu
ABUJA-The Peoples Democratic Party (PDP) has said the President Muhammadu Buhari-led Presidency has no honour left after reports emerged that it allegedly concealed a N10 billion theft perpetrated by its officials at the National Health Insurance Scheme (NHIS).
The party said Nigeria is being shoved to the precipice as the "Buhari Presidency's incompetence manifest in the daily activities of government."
The PDP, in a statement issued on Monday, by the National Publicity Secretary, Kola Ologbondiyan, said it was shocking that the NHIS money was siphoned through the Federal Government Treasury Single Account (TSA) in the Central Bank of Nigeria which is under the direct purview of the Presidency.
"Nigerians can now see the level of debauchery associated with this administration. It is appalling that a government can be so depraved that it superintended over the stealing of money meant to provide healthcare for the citizens.
"We challenge the Presidency to speak out on this report as well as similar reported sleazes that has (sic) occurred under its watch.
"Who in the Presidency authorized the withdrawal of the money from the TSA and who are the beneficiaries thereof?
"What has the Presidency to say about revelations that it ordered the reinstatement of the indicted Executive Secretary of the NHIS, Prof. Yusuf Usman, to help conceal this illegal withdrawals and shield members of the presidency cabals involved in the deal?
"Until and unless the Presidency clears its name by investigating, exposing and prosecuting those involved, it must directly be held responsible for this wicked act against Nigerians, who daily suffer hunger, depravation and death owing to the corruption in the APC government," the statement read in part.
The party also expressed dismay over President Buhari's alleged "Refusal to act on the leaked memo showing corrupt oil contracts at the NNPC to the tune of N9 trillion ($25billion dollars) in a sector under his supervision as Minister of Petroleum.
"Nigerians are aware that the Presidency has continued to shield fraudulent cabinet ministers including those known for extorting funds from agencies under them in addition to those indicted for corrupt enrichment."