By Perez Brisibe
ABRAKA – ONE person was on Wednesday feared dead while another is currently battling for life at the Delta State University Teaching Hospital, DELSUTH, Oghara following an attack by a group of suspected herdsmen at their cassava farm in Abraka community.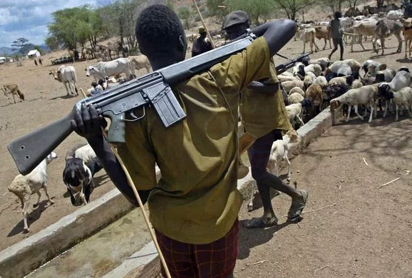 The victims, Mr. Happy Akpomiemie and father of 11 is feared killed while his wife, Mrs. Patience Akpomiemie, was reportedly shot on the back by the herdsmen while trying to escape from the scene of the attack.
The attack on the Akpomiemie family is coming two days after another resident of Abraka, Mrs. Patricia Okpako escaped from a group of herdsmen who attempted to rape her in her farm at Abraka.
Expressing worries that if nothing is done to stem the renewed attacks by herdsmen in the area, the member representing Ethiope East in the State House of Assembly, Hon. Evance Ivwurie said, "Am afraid we are going to resolve to self help in defending ourselves."
Giving details on how she escaped being raped, Mrs. Okpako who said she was on her monthly flow, had to through her bloody pad on the herdsmen who insisted seeing evidence that she was menstruating when she pleaded with them earlier.
Victim throws menstrual pad on herdsmen
"They did not believe when I told them I was menstruating as they insisted on seeing evidence, so I brought out the bloody pad and threw it on them. In the confusing that followed, I fled and escaped," she said.
Speaking on his ordeal, son of Happy Akpomiemie, Elvis who had accompanied his parents to the farm stated that they (him and his parents) had gone to the farm at about 4pm on Wednesday when they were accosted by the armed herdsmen with their herd.
He said: "Sensing danger, my father told me to run and that he and my mother would look for a way to escape, as soon as I started running, my mother followed but unfortunately, she was shot on the back and this was followed by three gunshots.
"I was able to run for safety and hide in the bush till 10pm before I came out to town. My mother also, was able to run to safety from where she was taken to the Abraka general hospital and subsequently referred to Oghara owing to the seriousness of her wounds."
We might resolve to self help – LAWMAKER
Condemning the incident while describing it as unfortunate and disastrous, Ivwurie during a visit to the affected families, said: "It is so unfortunate that in the last two years, 12 of my constituents have been killed by these herdsmen. Today we are running to save the life of this woman while another is missing.
"I am calling on the Inspector General of Police and the Delta State Commissioner of Police to immediately send a team of policemen to Abraka in the next 24 hours to comb the area and find these culprits, else am afraid we are going to resolve to self help in defending ourselves as a people and am ready to die for this cause."