By Iyabo Aina
Obaland academy is the project powered by Edo Reggae Festival Inc, an entertainment company, established in 2017 by the CEO, Empress Adesuwa Omoyeme Obatta a.k.a Dqueen who is a theater artist, known for being one of the constituent member of Nigeria's renowned Nollywood.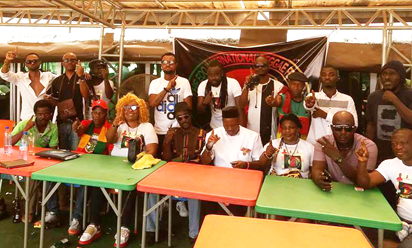 One time interim vice president of PMAN, she graduated from the university of California (UCLA) USA . she also holds a degree in cinematography from the same school, a graduate of business management and marketing training from Boston state university (USA), mother to three, she has worked with the likes of Queen Latifah ,Tupac Umaru Shakur to name but a few, she is also an OAP, popularly known for International Reggae events alongside as an artist management guru with a class, one to behold.
Back in Nigeria. She has also worked and managed mainstream reggae artiste likes Majek Fashek, Winning Jah, The Mandators, King Wadada, Africa meets reggae festival, Roaring thunder sound system of Nigeria.
Dqueen is also the architect and organizer of the Edo State International Reggae Festival ,"Obaland Music Award", to be endorsed by Commissioner for arts and culture, under Ministry of arts and culture.
The Obaland Academy and the awards programs, was launched in Benin city (Edo State) with the participation of important personalities like Edo state director of art and culture who represented the ministry and other Government bodies, Mr Godwin Egbe of the Edo state broadcasting service, series of Nigerian veteran, artists, with various national hit songs, like Oligbese, Daddy Fresh, Dyckoy, Naxis DG, S.K.O, Eedris Abdulkareem, Dj Oscar B and many other celebrities from the Nigeria entertainment industry at large.
The launching was based strictly on invitations, as the award launching academy wasn't meant for persons without hard work or social impacts to Edo state and her people globally. During the presentation, the CEO, Empress Adesuwa Omoyeme Obatta, pronounced her vision about this project, pointing out relevances on, why, where and how the recognitions are recorded and also emphasized the necessity of documenting this encyclopedia in private music libraries, for educational and tourism consumption. She counted on the Obaland' academy to be a reference to reliable content provider, as to promote the Oba's palace and Otèdo heritage. She also stated that this recognition will be strictly for persons without pending court cases, criminal acts, and anyone found abusing this antique recognition could be revoked by Edo state high court of Justice.
Members include: Video makers, Singers, songwriters, engineers, producers, managers, Individuals, humanitarians and a wide range of professionals working in the music and film industry.