By Muoka Lazarus
Beloved, from every point of view and particularly in our daily life activities we must have observed and arrived at the conclusion that human effort is limited to what it can achieve. Our exertion alone has not been able to help us realize our desire the way we wish. That is why man is always seeking for intervention of a greater force other than his effort.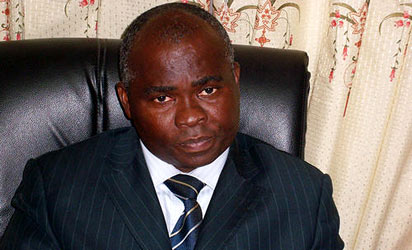 Among the aspirations we cannot realize by our own efforts is our salvation. No matter the quality of the efforts of man, it cannot solely grant salvation to himself. No man, either rich or poor would be saved through his own effort  but only God can bring men to heaven by the mighty power of His grace. It is impossible for any man, rich or poor, by his own natural strength, to get to heaven.
Matthew 19:24-26 says: "And again I say unto you, It is easier for a camel to go through the eye of a needle, than for a rich man to enter into the kingdom of God. When his disciples heard it, they were exceedingly amazed, saying, Who then can be saved? But Jesus beheld them, and said unto them, With men this is impossible; but with God all things are possible."
Only God can take the love of the world out of the heart of man. The explanation of Jesus on who is qualified to enter the Kingdom of God baffled His audience. The-ir understanding was that since it would be difficult for a rich man who could get everything he need-ed at his beck and call to gain the Kingdom of God, how much more then would it cost a less privileged person to enter?
They therefore concluded that the Kingdom they all aspired to enter may eventually elude them. But the account of who is qualified for the Kingdom of God given by our Lord Jesus was meant to draw their attention to the fact that only God has the power to change any-thing and above all grant salvat-ion. It is only the grace of God that can save. It can break down the trust in wealth, take away the love of wealth, and fill the heart with the love of Christ. Only God exer-cises the Supreme power over every created creature or thing.
Luke 18:27 says: "And he said, The things which are impossible with men are possible with God"
That which no one can do in your life that which no spirit or any-thing else can do, the Lord can do it and He will do it in your life to-day in Jesus name. Humans and all other creatures are limited in what they can do but only our God is unlimited.
Many problems abound without any perceivable solution from man but unfortunately many still take their problems to man.  This is rather an unfortunate situation as many who are bereft of this truth run from pillar to post look-ing for help where there is none and in the process abandoned the Almighty God the Creator who created all things, including spirits and man. But all the right of absolute authority and all the force of absolute power belong to God. He is the Almighty and holds the key to any problem.
John 5:1-9 says: "After this there was a feast of the Jews; and Jesus went up to Jerusalem. Now there is at Jerusalem by the sheep mark-et a pool, which is called in the Hebrew tongue Bethesda, having five porches. In these lay a great multitude of impotent folk, of blind, halt, withered, waiting for the moving of the water. For an angel went down at a certain sea-son into the pool, and troubled the water: whosoever then first after the troubling of the water stepped in was made whole of whatsoever disease he had. And a certain man was there, which had an infirmity 38 years. When Jesus saw him lie, and knew that he had been now a long time in that case, he saith unto him, Wilt thou be made who-le? The impotent man answered him, Sir, I have no man, when the water is troubled, to put me into the pool: but while I am coming, another steppeth down before me. Jesus saith unto him, Rise, take up thy bed, and walk. And immed-iately the man was made whole, and took up his bed, and walked: and on the same day was the sabbath."
For 38 years, this man was in sorrow, bedridden and abandon-ed. He must have sourced in vain for solution to his problem and it was evidently clear his case was incurable. He must have engaged all human efforts to no avail be-fore resorting to hinge his faith on the divine intervention availed at the pool of Bethesda.
Coming to Bethesda was an indication that human efforts have failed him. Beyond all doubt this narrative was designed intentionally by God to prove to man that with Him all things are possible. So that when opposition will arise on the account of this healing, men would be compelled to attest to His omniscience claim. And the healing took place on a Sabbath to prove that the Son of man was Lord of the Sabbath, and had a right to declare what might be done.
Jeremiah 32:27 says: "Behold, I am the LORD, the God of all flesh: is there anything too hard for me?
God has by these words above, asserts His own sovereignty and power. He is Jehovah, the self-existent and self-sufficient Being, the God of all flesh, which is of all mankind. God is the Creator of all, and makes use of what He pleases of all.
He has no rivalry, He is God of all flesh and of the spirits of all flesh, and, has power to do that which no one can do. If He is the God of all flesh, He may as well ask, 'Is anything too hard for me'? What cannot He do from whom all the powers of men are derived, on whom they depend, and by whom all their actions are directed and governed?  Whatever He designs to do, whether in wrath or in mercy, nothing can hinder Him nor defeat His designs.
These scriptures provide the ans-wer to the owner of all powers, hu-mans, spirit and other things in heaven and earth. That which no man can, God can do it. God who knows man's limitation has al-ways commanded believers to look up to, trust and depend on Him for there is no power besides Him that can deliver them.
Isaiah 45:22-23 says: "Look unto me, and be ye saved, all the ends of the earth: for I am God, and there is none else. I have sworn by myself, the word is gone out of my mouth in righteousness, and shall not return, That unto me every knee shall bow, every tongue shall swear"
Look to Jesus Christ for your del-iverances, healings, and blessings and promises and He will surely do it because He cannot lie. Look-ing and depending upon the Lord Jesus guarantees solution to human problems. Therefore let us from this day onward realize that only God has the power to do all things and not allow ourselves to be deceived that there is another power that can save us.
Let us see to it that we are not carried away by vain deceit and ideas of men disregarding the fact that only God can do what no one can do. God is able to give you salvation from sin, from the hands of the devil, He is able to sanctify and fill you with the Holy Ghost baptism and power, and make you a blessing to your household and generation in Jesus name.