The Nigerian Medical Association (NMA) on Wednesday conferred a "Distinguished Ambassadors Award'' on the Speaker of the Ogun House of Assembly, 'Mr Suraj Adekunbi, in Abeokuta.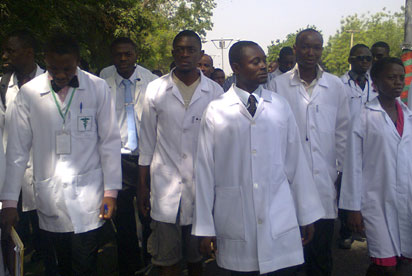 Dr Abayomi Olabode, the Ogun state Chairman of the association, said the award was given to Adekunbi in recognition of his outstanding achievements.
He listed one of the achievements as the legislature's promotion of relevant legislations for the development of healthcare services and sports in the state.
Olabode led other members of NMA to the assembly complex to decorate the speaker and briefed him on level of their preparedness for the forthcoming NMA National Games, tagged: "Abeokuta 2018".
"The Assembly, through its people-oriented legislations has helped in transforming all sectors of the state's economy, particularly the healthcare sector,'' he said.
He described the speaker as an astute administrator and a lover of peace, reiterating NMA's unwavering support for the advancement of the health sector.
He assured that the NMA would continue to partner with the assembly towards initiating relevant legislations to further enhance the healthcare sector.
Responding, the Speaker thanked the association for the gesture, noting that the success recorded so far was possible through the synergy with professional bodies and residents of the state.
Adekunbi said: "As a people's representatives, it has become imperative that we deliver on the mandate given to us by the electorate through quality representation.
"We strive to bring about legislations that will always advance the socio-economic status of the state.''
Adekunbi, however, tasked the medical personnel not to rest on their oars at improving the overall health of the populace.
NAN