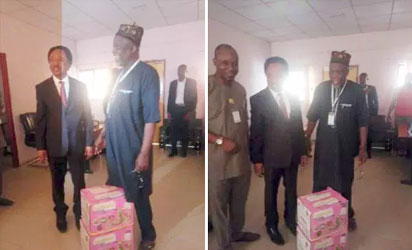 Senator Sani storms JAMB office with anti-snake venom, charmers
By Anthony Ogbonna
There was a little drama at the Joint Admission and Matriculation Board, JAMB, office on Tuesday as the senator representing Kaduna Central, Shehu Sani, stormed the board's office with anti-snake venom and snake charmers to recover a missing N36m allegedly stolen from the board's vault by a mysterious snake.
This is following the recent startling report of a missing N36 million in JAMB vault, purportedly swallowed by a spiritual snake as confessed by an official of JAMB, Philomena Chieshe, who, failing to account for the N36m she made from the sale of JAMB scratch cards, accused her housemaid of conniving with another JAMB official, Joan Asen, to "spiritually" steal the money from the vault in the accounts office through a spiritual snake.
Read also: JAMB: We won't spare any Snake in vault swallowing Public Funds – PRO
However, while presenting the anti-snake venom and the charmers, Senator Sani said, "The reason for my presence here is in response to the story that a snake swallowed about N36 million. It is my concern that such a huge amount of money is reported to have been swallowed by a snake. I believe the contribution I can make is to bring snake charmers from my constituency to the JAMB office to help them fish out the snake or weed out snakes from their premises."
"If a snake can actually swallow N36 million, one day, we may wake up in this country to see that a snake has swallowed our foreign reserve or it has swallowed money that was gathered in the TSA."
JAMB Registrar, Ishaq Oloyede, could not contain his amusement over the development.
Meanwhile, the Public Relations Officer, PRO, of the board, Fabian Benjamin, said the board has heard similar startling and frivolous defence like the one given by Mrs. Chieshe over the missing fund. He however said that the board is dealing with the cases.
According to him, "There was even a case in Nasarawa when a staff claimed that on his way to come and submit the scratch card, he had an accident and the car got burnt with the scratch cards."
"The cards have numbers and when we checked we found out that those cards were used. There was another staff that said his signature was forged. He agreed that it was his signature but he wasn't the one that signed and did not collect the scratch cards. We have many issues like that but all of them have been queried, they appeared before the disciplinary committee, they were interrogated. A report has been written. Once that report has been approved, we will be commended for their dismissal and prosecution."