By Dapo Akinrefon
Lagos — THE  Peoples Democratic Party, PDP, in Lagos State has kicked against the enforcement of the Yoruba language preservation and promotion law 2018, calling on Governor Akinwumi Ambode to suspend the law.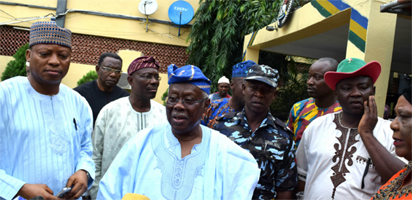 In a statement by its Publicity Secretary, Mr Taofik Gani, the party argued that the bill recently signed into law by the Governor was an early misapplication and revenue coloration in bad faith.
The party stated that the lack of due considerations by the Lagos House of Assembly "in making and passing the bill gives one strong doubts on the competence of the house to deliver flawless legislation."
It accused the state government of hastily directing all its tertiary institutions and other schools to demand credit pass in Yoruba language before any applicant could  be qualified for admission.
"To the PDP, this is a clear indication that the law is more interested in revenue, thus tainted and in bad faith," the party stated.
According to the party "Frankly speaking the law was not brilliantly considered and its hasty applications make it laughable. To us in PDP and a lot of other groups, the law is ethnocentric and direct attack on all non Yoruba residents in the state. It has also usurped the inherent powers of the Senate in the various institutions to determine their qualifications for entry. Imagine an Igbo or Hausa with 9 distinctions but a pass in Yoruba language. Such will be denied admission into our schools. Whereas by the combined provisions of Sections: 17(2c) (3a) and 18 (1) of the 1999 Constitution of the FRN (as amended), all citizens should have equal rights and fair opportunities to education in any part of the country." Indeed, this vindictive law will eventually be applicable to persons employed or seeking employments in the state establishments"
"We will notwithstanding advise Governor Ambode to get careful with bills emanating from and passed by the Lagos State House of Assembly to save Lagosians and the state from further embarrassment."