By Ben Agande, Kaduna.
There seems to be no end to the crisis in the Kaduna state chapter of the All Progressives Congress (APC) as the party at the weekend suspended for six months, the Senator Representing Kaduna North, Senator Suleiman Hunkuyi while 28 other members of the party were outrightly expelled for dragging the party to court.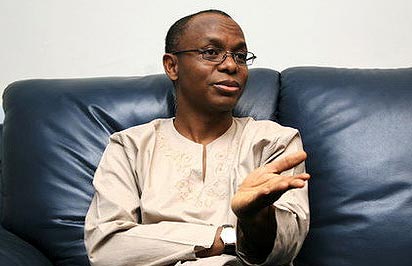 The decision is coming at a time a faction of the party, supported by Senator Hunkuyi had queried the state governor, Nasir El Rufai for alleged anti party activities while three of his aides were suspended for eighteen months
The decision to mete punitive measures against the senator and others was taken after an emergency State Executive Committee meeting at the party's state secretariat on Friday.
Acting state secretary of the party, Yahaya Baba Pate who addressed journalists at the end of the meeting said Senator Hunkuyi was suspended for six months because of his role in the setting up of a parallel office of the party in the state, while the other members were expelled because the violated the constitution of the party by dragging the party to court.
He said the state chapter of the party could not expel Senator Hunkuyi because as a member of the national assembly, the SEC does no have such powers to expel him.
With the suspension of Senator Hunkuyi by the party, all the senators elected on the platform of the APC are under suspension from the party.
Senator Shehu Sank, who represented Kaduna Central in the Senate has been under suspension from the party for more than one year.
Speaker of the Kaduna State House of Assembly, Honourable Aminu Shagali, who was at the meeting aligned himself with the disciplinary actions taken against some members of the party.
The Kaduna State Deputy Governor, Architect Barnabas Bala Bantex was at the meeting with other chieftains of the party in Kaduna as well as members of the House of Representatives and state House of Assembly.