By Pastor William F. Kumuyi
Romans 6:18,22 "Being then made free from sin, ye became the servants of righteousness. But now being made free from sin, and become servants to God, ye have your fruit unto holiness, and the end everlast-ing life."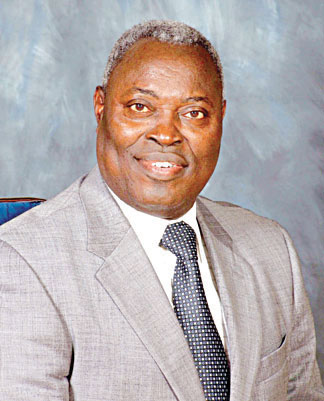 Romans 8:1 "There is therefore now no condemnation to them which are in Christ Jesus, who walk not after the flesh, but after the Spirit."
Those who remain under the cover and protection of the grace in Christ, not the ones that estray from God, will experience comple-te peace of mind, without any form of harassment in their conscience.
The world we live in is a journey. This life journey has two destinat-ions. Those who walk after the dict-ates of emotion and fleshly desires will perish and drown their souls in perdition. We do not have to go through that road compulsorily, because that is not the only road available for the journey of life. The other road is the road of the Spirit, where you are free of con-demnation and guilt. When you have a made up mind to walk on the second highway, you will no longer suffer condemnation.
We are given the option to make choices on a daily basis and God expects you to make the right choice, not to walk in the flesh, but in the Spirit, as regards your eternal destiny.
Hebrews 7:25 "Wherefore he is able also to save them to the utter-most that come unto God by him, seeing he ever liveth to make in-tercession for them."
Do you know that Jesus is right there in heaven praying that you too make it to heaven? Of course, if He could shed His sacred blood for that purpose, praying for you will not be an issue. In fact, He is more interested that you get to heaven than anybody on earth is interested that you make it in life or get to heaven.
Let me tell you. If you do not get there or if I do not get there or if we do not make it to heaven, that place will be quite empty. My seat is there. My mansion is there. My place is there. Nobody else will re-place me. You will be there, be-cause Christ is interested that you are there.
Now, I think, you can relax be-cause He who has the power to save you, also has the power to keep you. Praise the Lord! He will keep you.
Here lies our preparation, if we must get to heaven:
II Peter 1:3 "According as his divine power hath given unto us all things that pertain unto life and godliness, through the knowledge of him that hath called us to glory and virtue."
Christ has not called us to disgrace but to glory. He has not called us to vice, but to virtue. He will fulfill that very purpose in which He call-ed you to in Jesus name. Your life will be beautiful.
II Peter 1:4 "Whereby are given unto us exceeding great and pre-cious promises: that by these ye might be partakers of the divine nature, having escaped the cor-ruption that is in the world through lust."
When you become born again, the violent boisterous angry nature of your earthly father, which comes over you any time something in-significant takes place, will cease to control you and the calm divine nature of our Father who art in heaven will take charge and a new you will be uncovered. That is the nature of Jesus.
II Peter 1:3-7 "According as his divine power hath given unto us all things that pertain unto life and godliness, through the knowledge of him that hath called us to glory and virtue: Whereby are given un-to us exceeding great and precious promises: that by these ye might be partakers of the divine nature, having escaped the corruption that is in the world through lust. And beside this, giving all dili-gence, add to your faith virtue; and to virtue knowledge; And to know-ledge temperance; and to temper-ance patience; and to patience godliness; And to godliness bro-therly kindness; and to brotherly kindness charity."
In order to grow in this new divine nature, you are expected to possess or add the salient qualities enlisted above into your Christian lifestyle.
The problem of some people is that they only remain in—"I am born again"—they do not add anything to that. But God has highlighted these qualities so that we can improve on the basis, which is the divine nature. Make out ti-me to work on this aspect of your life; and by the time you are through, those who come in con-tact with you will be surprised to see some remarkable improve-ment in your spiritual life. You will add some virtues into your life in Jesus name.
I John 3:8 "He that committeth sin is of the devil; for the devil sinneth from the beginning. For this pur-pose the Son of God was manifested, that he might destroy the works of the devil."
There are people who make a pra-ctice of committing sin. They do not even try to resist it, but shame-lessly surrender themselves as slaves to Satan. But the people who give Jesus a chance in their life will relish every moment of it, because Jesus will destroy all the works of the devil in their lives.
The devil wants to beguile as many people as he can into sin so that they will perish and spend eternity in hell fire with him. But, here on earth, people still have the opportunity to turn off the sin plug, because the blood of Jesus is readily accessible. The devil can miss his way in your life, if you let Jesus in to stay.
I John 3:9 "Whosoever is born of God doth not commit sin; for his seed remaineth in him: and he cannot sin, because he is born of God."
When you are born again the na-ture of God comes into you and He sets you free from sin.
Hebrews 2:14 "Forasmuch then as the children are partakers of flesh and blood, he also himself like-wise took part of the same; that through death he might destroy him that had the power of death, that is, the devil."
Pay attention. Who is greater, Satan or Jesus? Who is more powerful, Satan or Jesus? Who will do a better job of controlling your life, Satan or Jesus?
If you are in the sitting room and Jesus is right there with you, while the devil is at the door knocking, which of them is closest to you?
If your answer is Jesus and He is closer to you, then why is it that anytime the weakly Satan who is far away from you performs his theatrics, you do not tell him to shot up his mouth. Silence that devil and Jesus will humiliate him for you.
It is unfortunate that those who fall into sin do not seem to realise that Jesus is near by. But as many who belong to Jesus will find Him as a present help in times of their need. Today you will escape from the snare of the devil in Jesus name.
Romans 6:6 "Knowing this, that our old man is crucified with him, that the body of sin might be destroyed, that henceforth we should not serve sin."
Do you still remember the story of the pardoned thief who was by Jesus at the cross? Okay. People feared him when he was roaming the streets because he was 'powerful'. But the moment word got out that he had been crucified, people had no reason to be afraid of him anymore.
Our old man and nature has been crucified. Before we knew Jesus Christ, that old nature was strong and powerful and could make us act foolishly, because we were helpless. That was when it was free. Now we have come to Christ and the old nature has been nailed to the cross. It is no longer powerful nor can it conquer us any more. You will overcome. I said that you will overcome. Your victory has come.
1 John 3:10 "In this the children of God are manifest, and the children of the devil: whosoever doeth not righteousness is not of God, neither he that loveth not his brother."
You are now living in a new dawn, because Jesus Christ lives inside of you. He is now your Saviour and when the devil comes with his theatrics you will not fall. You will stand. You will not fall.
Tell it to the Lord because He has all the grace, strength and righteousness that you need. He will help you. And if you are here, but you have not made Jesus Christ as your Lord and personal Saviour, this is your moment. Confess your sins and accept Him into your life. Do not let this great opportunity pass you by. Call upon Him.
God has supplied us with sufficient grace to overcome all temptations that come our way. There is no temptation that will come upon you that you do not have grace to overcome. If God allows any temptation and trial to knock at your door, it is because He has given you the needed grace to overcome. I said you have the grace to overcome and you will overcome in Jesus name.
1 John 5:1 "Whosoever believeth that Jesus is the Christ is born of God: and every one that loveth him that begat loveth him also that is begotten of him."
Everyone that loves God the Father also loves the believing christians who have been washed by the blood of the Lamb.
The moment you become born again your life will be different from others and it will change for good. When that transformation is visible and readily seen by all, then you are a child of God.
1 Peter 2:1-2 "Wherefore laying aside all malice, and all guile, and hypocrisies, and envies, and all evil speakings,
As newborn babes, desire the sincere milk of the word, that ye may grow thereby:"
If you are born again, there are things you are expected to lay aside so that your journey to heaven is not hampered. While you are at it, you need to cultivate the longing desire within you for studying the milky word of God.
1 Peter 2:9 "But ye are a chosen generation, a royal priesthood, an holy nation, a peculiar people; that ye should shew forth the praises of him who hath called you out of darkness into his marvellous light:"
We are to show forth the glory of God by our conduct and lifestyle; and you will show forth the praises of God in Jesus name.
There are some people who think to possess salvation experience, but a closer look at their admittance reveals that their salvation is false and only stem from personal effort. Some are of the opinion that if they could only blend in with the ways of a certain denomination, through regular church attendance, then it would fetch them salvation. But they fail to understand that salvation requires sweat and hard work.
This is because to obtain salvation you must let the sermons you have heard work on you and you on the sermons in order to have a change of character that is demanded by God. Else, you will only end up like Judas Iscariot because I do not think that you have heard as many sermons as Judas.
He heard all the sermons Jesus gave and when the multitudes found time to retire, he was still by the Master, with the rest of the disciples, listening away. Yet, he did not have the staying power because he loved thirty pieces of silver more than Jesus Christ. If the love of money still incubates in your heart, then a real change has not taken place in you nor can you say that you are a real child of God. That is why you need the real proof of salvation in Christ so as to dispel any doubt.
1 John 5:2 "By this we know that we love the children of God, when we love God, and keep his commandments."
When people look at your life can they say you are prone to obeying the commandments of God? Because all your life's achievements will go down the drain, if you do not have accompanying obedience to the word of God.
John 14:15 "If ye love me, keep my commandments."
Jesus says that the only way to prove that you love Him is when you keep His commandments. This means that when you love Him it will reflect on your attitude and your daily actions.
John 14:21, 24 "He that hath my commandments, and keepeth them, he it is that loveth me: and he that loveth me shall be loved of my Father, and I will love him, and will manifest myself to him. He that loveth me not keepeth not my sayings: and the word which ye hear is not mine, but the Father's which sent me."
True lovers of Christ show it by the life they live.
John 15:10 "If ye keep my commandments, ye shall abide in my love; even as I have kept my Father's commandments, and abide in his love."
It was as a result of the obedience of the Lord Jesus to the Father's instruction that He died for our sins. Likewise, you are to measure your obedience to the commandments of the LORD by the obedience of Jesus Christ. Your obedience to God should not be tied or based on man's actions and inactions towards you.
Sometimes there are people who let their guard down because of the hurt inflicted on them by others. They will come up with such line as, "I have been keeping the commandment of Jesus Christ until Bro X offended me. After the offence, I got up and asked myself why I'm I taking this? And why I'm I still obeying the commandments of God after Bro X humiliated me in that manner?
Is it because Bro X backslide that you too want to backslide? Is it as a result of that that you have chosen to retaliate by stepping out of bounds? Is that man strong enough to pull you away from the grace of God?
I heard of a lady whose husband, actually he brought her up into the faith, messed up himself. As a result of that let down, she was so devastated that she swore to do worse things than he did. She resolved to teach him a lesson he will never forget in a hurry.
In fact, she was really at it that she said that when she eventually gets to hell she will remind him that he was the cause. She was prepared to go to hell because her husband chose that same path. But I will not go to hell because of anybody. I said that I will not go to hell because of anybody.
How do you go to hell for somebody simply because you needed to retaliate? It is simply unheard of to even think of trying to go to hell because someone played a fast one on you.
Somebody said, I was a zealous worker in my local church until that other person did something that hurt me. As a consequence, I will forsake the work of God so that I will teach him a lesson. Well, if you forsake the work of God, you will lose your crown of glory and your heavenly reward because of that person. But I am not going to lose my reward because of anybody. I will serve the Lord. I believe that I am talking to somebody.
Psalms 119:60 "I made haste, and delayed not to keep thy commandments."
Our attitude, at all times, should be first and foremost to keep and uphold the commandments of God. Whatever people do, whatever challenges that may come your way and whatever disappointments you may suffer as a result of other people's failures, your resolve should be to serve the Lord.
Psalms 119:127-128 "Therefore I love thy commandments above gold; yea, above fine gold. Therefore I esteem all thy precepts concerning all things to be right; and I hate every false way."
As children of God, God expects nothing less than our unalloyed loyalty and love for the commandments He forged from the pearly gates of heaven, and because of the unequalled sacrifice of Christ at Calvary.
1 John 2:3-6 "And hereby we do know that we know him, if we keep his commandments. He that saith, I know him, and keepeth not his commandments, is a liar, and the truth is not in him. But whoso keepeth his word, in him verily is the love of God perfected: hereby know we that we are in him. He that saith he abideth in him ought himself also so to walk, even as he walked."
1 John 5:3 "For this is the love of God, that we keep his commandments: and his commandments are not grievous."
The commandments of God are not difficult and oppressive, but are delightful to obey.
The sweet Psalmist of Israel, David the king puts it thus in Psalms 19:8,10 "The statutes of the LORD are right, rejoicing the heart: the commandment of the LORD is pure, enlightening the eyes.
More to be desired are they than gold, yea, than much fine gold: sweeter also than honey and the honeycomb."
Job 23:12 "Neither have I gone back from the commandment of his lips; I have esteemed the words of his mouth more than my necessary food."
Take a little bit of time to think about the importance of food for the survival of man and how special your favourite meal is to you. I guess that it may be one of the happy hours of your life when eating that delicious delicacy. If you can imagine the excitement while taking your most appealing meal, then bring it side by side with the scintillating word of God. The prophet Job counts the commandments of God pleasant and delightful and he enjoys them much more than his necessary food. That should be the attitude of a real child of God.
Jeremiah 15:16 "Thy words were found, and I did eat them; and thy word was unto me the joy and rejoicing of mine heart: for I am called by thy name, O LORD God of hosts."
Jeremiah is not the kind of person you force to read and learn from the Bible. He is not the sort of person you compel to attend the worship service or the midweek service in the house of God. Such a mannerism is what God the Father loves to see from His children.
Revelation 14:12 "Here is the patience of the saints: here are they that keep the commandments of God, and the faith of Jesus."
Revelation 22:12-14 "And, behold, I come quickly; and my reward is with me, to give every man according as his work shall be. I am Alpha and Omega, the beginning and the end, the first and the last. Blessed are they that do his commandments, that they may have right to the tree of life, and may enter in through the gates into the city."
The people that enjoy the manifold blessings of God are the ones that do His commandments and not the ones that know it in their head or in their mind, but never take time to coach themselves on the importance of obeying the word of God. I pray that you will become one of them that will have access into heaven the city of God in Jesus name.
1 John 5:4-5 "For whatsoever is born of God overcometh the world: and this is the victory that overcometh the world, even our faith. Who is he that overcometh the world, but he that believeth that Jesus is the Son of God?"
1 John 2:13-14 "I write unto you, fathers, because ye have known him that is from the beginning. I write unto you, young men, because ye have overcome the wicked one. I write unto you, little children, because ye have known the Father… I have written unto you, young men, because ye are strong, and the word of God abideth in you, and ye have overcome the wicked one."
The grace of God will make you strong. Your faith in Christ will make you strong. Strong people do not try to avoid difficulty. If you are strong and difficulties tug on you, you should bask in the excitement that it is meant to make you stronger.
As it is in the physical, likewise in the spiritual. A child of God should not bemoan his troubles in a corner, but rather meet it with a fearless determined push, because greater is he that is in you than he that is in the world; temptations and trials of your faith will always be there in the world to confront you. But if you are born again and Christ lives in the inside of you, I charge you to go out there and win the victory. You will be victorious in Jesus name.
Your child returned home from school unannounced. As the inquisitive parent that you are, you had to ask if he was on vacation. His response was in the negative. So, you inquired again. This time his answer was "Daddy, you know that I got this all important salvation before I was admitted in the university. And you know how delicate it is. When I got to the campus I was surprised to see the way the other undergraduates were living their lives and the kind of things they were doing. Even the lecturers have their way of saying some troubling things. Due to the importance of this salvation, I felt the best thing to do was to run back home and hide in our house so that I do not lose my salvation.
If you are out there with such a mentality, I want to put the screw now so that you will go back out there; and when they are talking their rubbish, while they are at it, stand up to them with a new found courage and say to them, 'eh listen to me everybody. I want to tell you something. It is a story that you have never heard, which will change your life for the better. I used to be afraid until I met this wonderful person.
After that awesome encounter, my life turned around completely. At that moment, they will be all ears wanting to listen for more. That person is Jesus Christ. I repented of my sin and got born again. Now I am a child of God. Some of them will begin to chant, "Pastor!" "Pastor!" Seize that opportunity to let them know that you are the Pastor of the class. I tell you that they will not bother you with those classroom temptations anymore and the Lord will give you the victory in Jesus name.
Daniel did not run back home from Babylon, but he made up his mind to overcome and he sure did get the victory. The other three Hebrew friends of his did not back down to intimidation owing to idol worship. Peter and John did not cower to pressure from religious leaders, but made up there mind to obey the word of the LORD. And you will obey the word of the LORD in Jesus name.
I believe you still remember how Paul the apostle handled the dark powers of occultism when Elymas the sorcerer tried to dissuade the deputy of the country from the faith. He did not cringe thinking that this man will destroy me. My brother, nobody will destroy you. Â – No weapon that is formed against you shall prosper; and every tongue that rises up against you in judgment you will condemn – But as a man of authority who had the final say, he proclaimed blindness upon the enemy of righteousness.Â
The same power that was upon Paul the apostle is coming upon your life. You will not run away from any enemy of righteousness, but you will stand and conquer them in Jesus name.
John 16:33 "These things I have spoken unto you, that in me ye might have peace. In the world ye shall have tribulation: but be of good cheer; I have overcome the world."
Because Jesus overcame, you will overcome. The world will not outgun you. Their trials and temptations will not overcome you. You will be on the side of victory because you live on the faith of the Son of God and that faith in Jesus the Son of God is an overcoming faith.
Galatians 2:20 "I am crucified with Christ: nevertheless I live; yet not I, but Christ liveth in me: and the life which I now live in the flesh I live by the faith of the Son of God, who loved me, and gave himself for me."
Because you live by the faith of the Son of God you are a conqueror. You are a victor today. The power of God will follow you. All the things that threatened you in time past, I can see them giving way, because, right now, you are the overcomer.
Romans 8:37 "Nay, in all these things we are more than conquerors through him that loved us."