By Kingsley Adegboye
In order to hasten speedy completion of the ongoing housing construction under the National Housing Programme NHP, across 33 states in the country, the Federal Government has pledged quick disbursement of funds to  contractors.
The Minister of State for Power, Works and Housing, Alhaji Mustapha Shehuri, made the pledge in Enugu at the end of his  inspection tour of NHP sites in South-East zone of the country.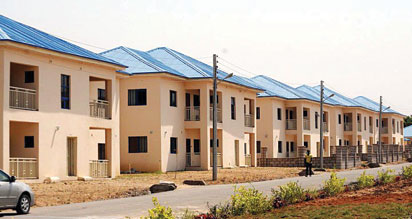 Shehuri promised to facilitate payment of contractors once they raised certificate to enable quick completion of the housing projects nationwide.
The housing construction activities, which are going  simultaneously in 33 states of the federation, are at different stages of completion. Some of the construction sites have reached roof  and lintel levels in some states, while other states are just commencing foundation laying.
The minister  assured contractors in the south estate that regarding the issue of funding, he would personally take the issue up and make sure that funds are made available  as at when due to round up the project. He said: "I am sure that funds are available and payment will be made when due to complete the projects."
According to him, the housing  programme was in line with the President's campaign promise to provide infrastructure to Nigerians, assuring that government is doggedly determined to bridging the nation's housing deficit of 17 million units.
The minister appealed to state governments to settle NHP land owners to enable them to access the site for successful project.
The NHP is one of the programmes of Federal Government to provide affordable and functional housing units to Nigerians
The minister  noted that in all the states he visited in the zone, none of the housing construction reached near completion like that of Enugu.
Deputy Director, Department of Public Building and Housing of the ministry, Mrs Tina Ene, briefed the minister  that 12 contractors were mobilised at the project site,adding that some of the houses had gone beyond lintel level, while some had been roofed.