The Dorothy Njemanze Foundation says it has adopted the use of entertainment to tackle Female Genital Mutilation (FGM) in the country.
Ms Dorothy Njemanze, the President of the foundation, said this at a film screening of a movie titled ALERO in Abuja.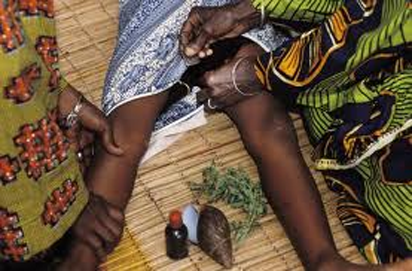 Njemanze said the movie was produced to commemorate the International Day for Zero Tolerance for Female Genital Mutilation.
The day is celebrated annually on Feb. 6, to raise public awareness on the dangers of FGM and urgent need to stop the practice.
She explained that the foundation would fight for the rights of humans and females in particular, using the entertainment media.
She added that ALERO was one of the tools used to bring awareness on the inhuman treatment of circumcising female children in our society.
Newsmen report that the movie is about a young and intelligent secondary school girl who was circumcised against her will, but with the support of her parents in order to pass down what they term 'tradition'.
Dr Eleanor Nwadinobi, a medical doctor and human rights consultant who gave more insight on FGM, said it has been a practice over time mostly in African and Asian countries.
"The practice is done in rural areas and it involves a female clitoris being cut off so that she won't be promiscuous.
"Most times, this is done with rural implements which are not sterilised.
"This is done at birth, at puberty or when a woman is pregnant with her first child.
"In some cases, some women lost their lives due to continuous bleeding," she said.
Mr Ben Alugh, a member of Education as a Vaccine (EVA), a non-profit organisation, stated that a 2013 study by the United Nations Population Fund (UNFPA) conducted in Nigeria showed that FGM is mostly practiced in the South Western part of the country.
"The study found out that Osun State had the highest number of Female Genital Mutilation, while Ekiti state came second," Alugh said.
He noted that since youths are moved by what they see, the use of audio-visuals to fight and educate the populace on the dangers of FGM was a welcome development.
According to the World Health Organisation (WHO), some of the health complications of FGM include painful urination, urinary tract infections, vaginal discharge, itching and painful menstruation.
Others include pain during intercourse and decreased satisfaction, increased risk of childbirth complications and psychological problems.
Newsmen also report that the Violence Against Persons (Prohibition) ACT, 2015, states that any person that performs female circumcision or genital cutting or hires another person to do such commits an offence.
The sanction for such act is four years imprisonment or a fine of N200,000, or both.
NAN