…To enforce processing of crude locally
By Michael Eboh
The Federal Government, Monday, stated that it is considering a policy whereby multinational oil and gas firms operating in the company would be compelled to build refineries in Nigeria.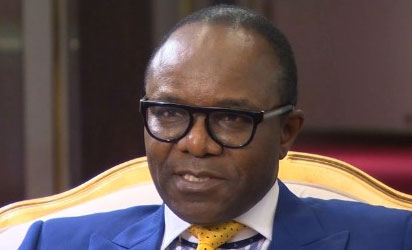 Speaking at the ongoing Nigerian International Petroleum Summit, NIPS, Minister of State for Petroleum Resources, Mr. Ibe Kachikwu, stated that in the not-too-distant future, multinational oil firms would no longer be allowed to ship out all the crude oil they produced in Nigeria, noting that emphasis would shift to local production of substantial portion of crude oil produced in the country.
"We would get to a point where Nigeria, definitely, would be a major supplier of refined petroleum products. It just have to happen. Nothing else makes sense.
"We are also saying directly to oil companies that a time would also come when we would not be open to see them move around all the crude oil they produce in Nigeria.
"We will like to see integrated refining and integrated processing here. It gives us more jobs and create more investments."
Kachikwu insisted that the challenge for oil companies had changed, noting that henceforth, oil had got to provide the resources to power the country; provide jobs for Nigerians and also provide the operational environment that is transparent enough for others to take Nigeria serious.
According to him, oil has got to provide the technical and advanced skills sets that are essential for the country to export people out into other African countries, and to become investors in other African countries.
He said, "The reality is that today, if you cannot produce cheap cost oil, if you cannot diversify the processing of your oil; if you cannot look to internalising and externalising investment in the sector; if you cannot capture the requisite technological skills that are essential to help you operate efficiently, you are lost before you start.
"My target is that over the next 10 years, Nigeria would produce an FPSO. and that is not too much to ask. My target over the next 10 years is that Nigeria would become self-sufficient in its own power provision. And over the same period, Nigeria would gravitate from crude oil, as it where, to very refined, clean provision of fossils.
"My target is that over that same period, investment in the sector, in the sense that Nigerian companies, Nigerian entities and Nigerian shareholders, would begin to move from the minuscle 10 per cent today, to between 40 and 50 per cent of local investments.
"What have we achieved since the launch of the Seven Big Wins two years ago? We have been able to, through a lot of struggle, change the funding capacity for the upstream, and that had sort of energised investors in the upstream sector. Now we are beginning to see projects like Egina, $15 billion; Zabazaba, potential $10 billion; Bonga, potential $10 billion, and the likes. So many other investments. Put at over $40 billion potential investments over the next five years, if we do the right thing, set the right models and set the right policies. That is very key and that is coming from a country where investments had runaway for nearly seven to 10 years."
Also speaking, President Muhammadu Buhari, disclosed that Nigeria is open to private sector investment in the downstream sector and is currently pursuing vigorously a programme for the rehabilitation of existing refineries so as to enhance capacity to supply locally refined petroleum products in Nigeria and West Africa.
Buhari, who was represented by Secretary-General of the Federation, Mr. Boss Mustapha, said based on its policies on the ease of doing business, the Federal Government would continue to ensure that all efforts in the petroleum sector and issues related to transparency, efficiency, enabling business environment and deploying new policies and regulations, would be taken into consideration so that investors would always feel at ease.
Continuing, he said, "Corruption in this industry must not be allowed in any form. On our part we will not stop the fight until a new image is created where transparency will be the watchword in all our transaction. Our emphasis on gas investment is resources part of our effort to cleaner economy that is gas based in alignment with the Paris climate Change agreement.
"The agenda for this summit portrays opportunities for all, hence we should do more than just talk about it, we should also act on the resolutions from here."
Subscribe for latest Videos