By Dayo Adesulu
AT a recent workshop organised by the Nigeria chapter of Neuro Linguistic Programming NLP, the importance of self discovery and mastery was brought to the fore, as musical artistes, Nollywood actors and motivational speakers who have distinguished themselves in their careers, gathered to brainstorm on the issues.
Director, NLP Nigeria, Mr. Rajiv Sharma, said that the importance of personal mastery cannot be overemphasised, adding that to achieve public victory and goals, we need to achieve personal mastery. He disclosed that the essence of the workshop was to assist professionals in Nigeria to discover their strengths and stay focused on their goals as it would help them attain success.
Moreover, Mrs Toyosi Akerele-Ogunsiji, a motivational speaker and founder of Rise Networks said the programme will help people develop their personal strength and rise above the challenges of life.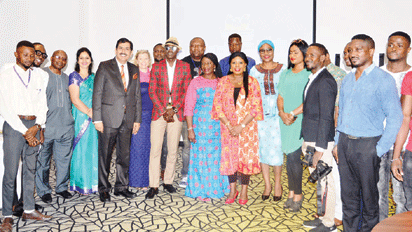 Personal mastery
She said: "The challenge confronting the country is not peculiar to Nigeria, it's everywhere and that is why it's not enough an excuse for this generation to fail."
While lamenting that Nigeria's education system does not prepare the youths for real life challenges, she pointed out the need for self development that would lead to personal mastery.
The Rise Network CEO said personal mastery has to do with the nature of mind discipline and will-power, adding that at every stage of people's lives, they need to learn, relearn and unlearn stressing that the day people stop learning, they start dying gradually.
"To unleash the tremendous power reserves which currently sleep within you, it is critical that you first become aware of the nature of the mind. The first step to personal mastery and successful living is to learn how to run your mind like a winner," she said.
One her part, one of the participants, Executive Secretary of the Lagos State Technical and Vocational Education Board (LASTVEB), Mrs Omolara Erogbogbo said the programme is really thought provoking and helps one to know who he/she really is, one's capability and to know what to do at the right time, at the right place.
She said Nigeria has good educational institutions but what people lack is self mastery, adding that the way people interpret education affects other people's perception about them.
'For instance, technical education is seen by many people as education for push- overs whereas it is for those who want to develop and make use of their skills. If you attend any institution and you don't make proper use of the skills you acquired and prove yourself in the midst of others, they will look down on you,"she said.
The LASTVEB boss said the programme has developed her more in planning, setting goals and implementing them,  adding that her plan henceforth is to take technical education in Lagos State to the next level.
"Technical education in Lagos State should not be where it is today, students need more industrial exposure to world techniques, tools and equipment, government alone cannot do it, that is why we are calling on industries and multinationals to partner with government in this aspect," she said.
Other speakers at the event include music star, Sound Sultan, Nollywood actresses Lillian Esoro and Toyin Aimakhu among others. Sound Sultan gave six steps to personal mastery that is helping him move from one success to another. He shared his life experiences and stories.  Lilian Esoro discussed the Power of Excercise and Magic of Diet.
Participants learned the healthy habits of staying fit and eating balanced food.
Toyin Abraham discussed how to become Unstoppable in life. She mentioned every time she achieved a goal, she sets another one for future. Miss Toyin Abraham looking at Oscars in future and want to take Nollywood to next level with collaboration with other like minded people.
Another highlight of the Personal Mastery with NLP seminar was yoga that made everyone so relaxed and calm.