By Ikechukwu Amaechi
On Friday, February 2, 2018, the remains of Nigeria's first democratically elected vice president, Dr. Alex Ekwueme, will be committed to mother earth in his ancestral home of Oko, Anambra State.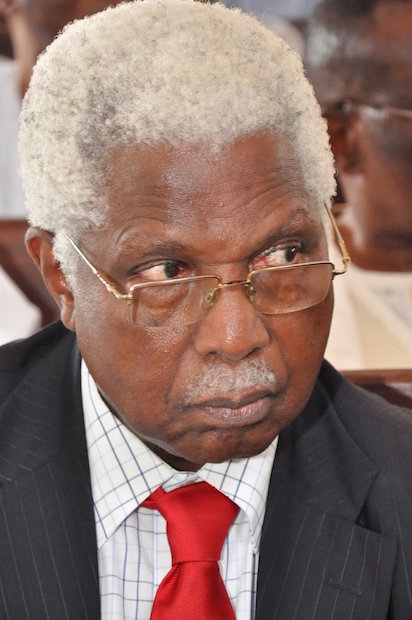 As Professor Ben Nwabueze noted, Ekwueme's demise "is not just the death of an individual, it is like the passing of an age – the age of patriotism, integrity, of principled approach in national affairs, of intellectualism in politics and steadfastness in political allegiance," creating a vacuum "truly comparable to the fall of a big iroko tree that leaves the forest bare and empty."
I had earlier in November last year paid my tribute in the article titled, "Ekwueme, Anambra politics and matters arising," The Ide Oko was a quintessential democrat, an intellectual in politics, a national icon. His was politics without bitterness. The gentleman and patriot that he was, he amply demonstrated by his actions both on and off the political turf that politics is not a dirty game played only by grimy characters. Instead, he proved that politics and integrity can and, indeed, should be soul mates. For many years, Ekwueme was a bridge-builder and stabilizing political force in Nigeria who brought his enormous intellect to bear on the country's politics.
His selflessness and sagacity at the Peoples Democratic Party's first national convention at the Jos Township stadium in 1998 succinctly captured his enduring essence in politics.
Military apparatchik
Having galvanized into action the group of 34 intrepid politicians that dared the murderous General Sani Abacha regime, a group that morphed into the PDP, Ekwueme was in a pole position to pick the party's presidential ticket for the 1999 elections before the military apparatchik stepped in, anointing one of their own, General Olusegun Obasanjo, who was in Abacha's gulag serving life sentence for treason when PDP was formed.
Ekwueme could have torpedoed the primaries if he wished because Obasanjo's candidacy, a classic display of military impunity, violated the party's constitution.
In an interview he granted Hausa newspaper, Rariya, in 2013, he painted a picture of the intrigues that propped the Obasanjo candidacy, machinations that are still haunting the country and its democracy till date.
"What most people didn't understand is that I could have scuttled the whole thing in Jos because in November 1998, at a meeting of the National Executive Committee of the party, which we had before local government elections of December, the government had said that it was the performance of the local government elections that would decide which parties would get final registration.
"So, it was crucial for every party to succeed in local government elections and at this meeting it was stated in black and white that anybody who did not win his local government will not be eligible to contest for the presidency. Anybody who did not win his ward will not be eligible to contest for the governorship. After the election of December 5, the next NEC meeting, which was chaired by late Sunday Afolabi because Solomon Lar was not present that day, approved and confirmed this decision of the NEC," Ekwueme said.
"Now in my pocket in Jos, I had a copy of the decision and also the constitution of the party … When the result was announced in Jos and they said Obasanjo won, I had the option of saying I didn't accept it or say I accept it, embrace it and work together to make sure the party wins. I could have said that of all the candidates that contested, it was only six that were eligible.
"I had the highest number of votes so I expected the party to send my name to INEC and having said that and read the minutes of the NEC meeting it was incontrovertible that a person who did not win his local government area, he didn't win his ward, he didn't even win the polling station in front of his house so with the NEC decision he couldn't be the party's candidate."
I was at the Jos Township Stadium on that fateful day. Ekwueme's supporters were not prepared to take prisoners. To them, their candidate had been unconscionably robbed and nothing short of a repudiation of the fraud would assuage them. Ekwueme was on a moral high ground backed by the party's constitution, and could cause enough havoc not only to the PDP but the entire transition process.
He chose not to. Instead, he sacrificed his political ambition on the altar of national democratic renaissance.
Why?
He ripostes! "It could have given the military the chance to prolong their stay which would defeat all the efforts we made and the risk we took to place our lives on the line during Abacha regime. My own personal ambition was not worth putting Nigeria at risk and that was why I embraced Obasanjo and went on to campaign for him. Few days after, fundraising was done at the Congress Hall and I chaired that fund-raising ceremony."
A self-seeking and egoistic Obasanjo and, indeed, majority of Nigerian politicians wouldn't have done that, not even for the country's sake.  Yet, despite Ekwueme's selflessness, Obasanjo maladroitly destroyed the PDP, humiliated its founding fathers, including Ekwueme, chased some into political oblivion, and in the process put the country's fledgling democracy in jeopardy. But Ekwueme remained steadfast, a faithful member of the party till the end. That is a strength of character that is scarce in this clime.
But that was not the first time the military would jeopardize Ekwueme's political trajectory. Umaru Dikko, second republic minister of transportation, alleged in a 1987 press conference in London that the December 31, 1983 military putsch led by General Muhammadu Buhari was executed to prevent Ekwueme from taking over from President Shehu Shagari in 1987.
Despite all these, Ekwueme remained committed to the Nigerian project till the end. He never haboured any animosity towards those who serially betrayed him.
As the foremost architect finally goes home, many questions concentrate my mind. The "what ifs" are legion. Unfortunately, there will be no concrete answers, only conjectures. That is the reality of the finality of death. But, ask, we must for the sake of Nigeria, because there are still some Ekwuemes out there waiting to be cheated out of the country's leadership by the same tendencies that have left us in the political Golgotha for years.
What if the Buhari-led junta didn't truncate the second republic with the possibility of an Ekwueme presidency in 1987?
What if Ekwueme, rather than Obasanjo, had emerged PDP's presidential candidate in 1998 and Nigeria's president in 1999? What would have been the state of Nigeria's democracy today? What difference would Ekwueme's democratic instincts have made?
The military tribunal set up by Buhari to try alleged corrupt politicians exonerated the former vice president with a verdict that "Dr. Ekwueme left office poorer than he was when he entered it and to ask more from him was to set a standard which even saints could not meet."
What if such a proven man of integrity rather than the pretentious anti-corruption horde who use the cliché to further their nefarious political interests, had been elected president in 1999?
What if Ekwueme, a thorough-bred democrat, had ushered Nigeria into the fourth republic rather than the self-proclaimed democracy converts, whose despotic instincts, nevertheless, are on full parade?
What if Ekwueme, a man without any streak of malice, was not shunted out of the presidency in 1999, thus allowing men reputed for their elephantine appetite for meanness, who will never forget or forgive, to hold sway?
Like I said earlier, there will be no definitive answers to these what ifs because the Iroko has fallen. But as 2019 beckons, they may be useful questions. There are still some Ekwuemes around. Should we continue to sacrifice their offer of service on the altar of our political mendacity?
Goodnight Ide Oko! May your sacrifice of love, service and dedication to Nigeria never be in vain.
Ikechukwu Amaechi is the  MD/Editor-in-Chief, TheNiche on Sunday newspaper, Ikeja, Lagos.