By Prince Osuagwu (Hi Tech Editor)
Nigerian technology engineers have taken a shot at the recently announced Nigerian Air Force, NAF, locally made drone, Tsaigumi, saying it's a shame the whereabouts of Dapchi girls remains a mystery while a drone launched by the president is lying idle.
Some of the engineers said that a great country like Nigeria should be technologically ahead instead of throwing money on what primary school student's abroad use as practicals.
They felt that bringing the president of the most populous black nation in the world to launch a drone that cannot give security details of young school girls abducted since last week was not only belittling but appeared like defrauding the country.
NAF drone
The Nigerian Air Force,NAF, inducted the first indigenous operational Unmanned Aerial Vehicle (UAV) nicknamed, Tsaigumi on 15 February 2018. The Tsaigumi UAV, which was produced by NAF Aerospace Engineers in collaboration with UAVision of Portugal, is said to have the capability to do Intelligence Surveillance and Recognisance (ISR) operations in land and sea domains.
It could also be used for policing operations, disaster management, convoy protection, maritime patrol, pipeline and power line monitoring as well as mapping and border patrol duties.
The Tsaigumi according to NAF, could be used for search and rescue, coastal monitoring and patrol of Nigeria's Exclusive Economic Zone. The UAV, which is capable of day and night operations, has an operational endurance in excess of 10 hours, a service ceiling of 15,000 feet and a mission radius of 100km. It has a maximum take-off weight of 95kg and its payload is an electro-optic and infra-red camera system.
Perhaps, NAF wants Tsaigunmi to be for Nigeria what Aerolight is to Isreal. A close range unmanned aerial vehicle (UAV) designed and manufactured in 2003 by Israel-based Aeronautics Defence Systems for the Israel Air Force and the US Navy. Aerolight can perform training, intelligence, surveillance, target acquisition, gunfire adjustments and reconnaissance missions. It can acquire real time data and transmit it to the ground control station (GCS) through a satellite communication data link.
It can also execute counter terror attacks, law enforcement missions and strategic facilities security operations. Flying at a maximum altitude of 10,000ft, the UAV can provide its operators with real time intelligence data by performing target acquisition and reconnaissance operations over a large area.
However, Nigerian tech engineers say while Israel is known for military sophistication which the Aerolight may have contributed to, the Tsaigumi has not fulfilled its mission if about 110 school girls are kidnapped in Yobe over one week, without their whereabouts known.
Last week, insurgents believed to be a faction of Boko Haram, invaded the federal government college, Dapchi, Yobe state and allegedly took away about 110 girls whose whereabouts are still unknown.
Although, the Air Force said it has deployed assets, launched day and night searches, some engineers believe that with a proper security drone, the result should have been instant.
A renowned engineer and Executive Director, Aflon Digital Institute, Abuja, Dr Akin Fapohunda, said time has come for Nigeria to think of investing on only technologies that would solve its problems.
He said: "If we have up to 100 Chibok girls still missing and now some Dapchi girls have been kidnapped with the numbers and whereabouts still a confusion, what is the benefit of the NAF locally made drone?.
"When it was launched, I was so ashamed and those who have chosen a career in sycophancy attacked me when I asked what makes it local or home grown?. If all the components were imported, with no evidence of any local value addition, what are we talking about?
Fapohunda described it as "a waste of national emotions to bring out a whole President to commission a contraption that you and I can do in our car garage".
No purpose
He threatened to share a website where drone components could be ordered, along with a coupling manual.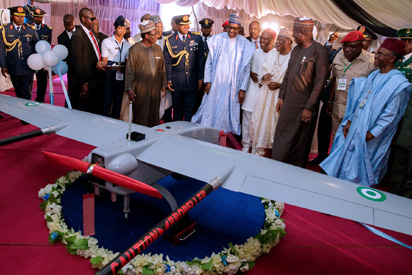 He argued that there were many purposeful things the NAF could have embarked on which would be of national pride for the Commander in Chief to stand to take photos that would be seen round the world but not a drone he described as having no purpose.
"So, we now have one drone, for what use? To locate Herdsmen as they kill in Benue or Zamfara? Or locate the Chibok, Dapchi girls, what exact purpose has it served now that we need it?" He queried.
Nanotech components
Continuing, he said, "I wished the Nigerian Air Force was showcasing a full production facility for the making of assorted Armoured Security Vehicles, ASVs for various purposes or selected Physics and IT Department in about three Nigerian Universities for the mass production of nanotechnology components.
"I wished they were at the state of demonstrating problem solving proof of concepts for practical adoption by Federal Road Safety Corps, FRSC or NIPOST in the least?
"But merely placing just one dingy contraption on the table for the Commander in Chief to commission really demoralised me.
"Even if what excites Nigerians is the made in Nigeria tag, where is the made in Nigeria cassava bread of Obasanjo? Where is the made in Nigeria car of Dr. Ogbonnaya Onu?
"Let the gullible wake up from slumber. We are increasingly becoming the butts of jokes across the world.
"How do people like me show my face to the white boys who were my classmates in the USA in 1978? I just feel so small intellectually, as the Nigerian condition has been an albatross pulling us down" he added.
Another engineer and former President of Nigerian Internet Group, NIG, Engr Adebayo Banjo described the idea of the drone as "chasing nebulous shadows".
He said there are a lot of Nigerians blazing the trails in such technologies with personal finances that government should encourage rather than yielding to what he described as "empty initiative.
"Of what effect has the so-called Black Man Satellite of Nigeria, been?
Just for some blokes to misapply resources and divert attention. And for us the followers, time to kill this misdirected patriotism that has no foundation in credible value addition to society.
"I don't want to mention names, but there's a young man who lives in Ikoyi and runs his late father's well known construction company and has, to my knowledge, built two fixed wing aircrafts, one from a kit, the other from design drawings and two functional helicopters. All four aircrafts can carry two people. There are many Nigerians across the country, who have built small drones and very large remote controlled aircrafts.  Abroad, this is not an issue as children make these types of drones and aircrafts every day.  I just wonder what interests these exposures serve, when you reason that young children abroad and other Nigerians can do this and are doing it.
"Infact, if such a device was in anyway strategic to the armed forces, why would they publicise it"? He queried.
Another Engr, Wunmi Hassan, said that drones are not big deals since in advanced economies, JSS students are producing drones as practical school works.
She recalled that during her recent visit to Mercy Academy in Kentucky, USA, October 2017, JSS and SSS students of the academy were producing solid and functional drones as practical works and didn't see why the NAF plane should attract a whole president, at launch.