By Michael Eboh
The Department of Petroleum Resources, DPR, Tuesday, commenced a strategic monitoring of the country's fuel supply situation across the country and also rolled out other initiatives, which it said are part of new measures to end the fuel crisis currently ravaging the country.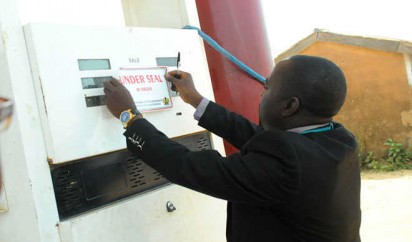 Speaking during the commencement of the exercise, Zonal Operatons Controller, DPR, Mr. Abba Misau, said the monitoring would be conducted on a daily basis, with the aim of ensuring that petrol stations get the product and that they disburse it to motorists.
He said the DPR will no longer allow hoarding of fuel by marketers under the guise of keeping deadstock and reserving the commodity for special customers.
He said, "Henceforth, no petrol station should reserve fuel for special customers or under whatever guise. Any stations found doing that would be sanctioned accordingly.
"Also, we discovered that petrol stations are keeping deadstock above the regulatory limit. Henceforth, any station found with petrol in their tanks above the regulatory limit, which is around 1,000 litres, the station would be forced to sell the product to motorist and would be sanctioned afterwards."
In some of the petrol stations visited, the operators complained of lack of product, with most of them saying they only get 33,000 litres of the commodity in two days.
At the NNPC mega station in Gwarinpa, the station manager, Mr. Babangida Hassan, said the station had not received any product today, but is however, hopeful of receiving at least a truckload of petrol by tomorrow.
At the Conoil petrol station, Kado, Abuja, the station manager, Mr. Henry Odeh, said they received 33,000 litres of the commodity by 12:40 am on Tuesday and had finished discharging the product within three hours.
He said the station did not receive additional supply Tuesday, and expressed hope that it would be able to obtain the product in the coming days.