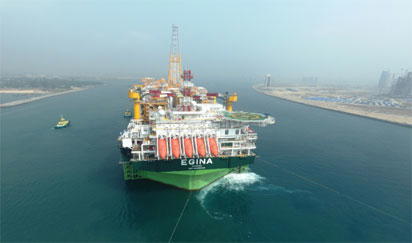 Total Egina FPSO ariving Nigeria
By Sonny Atumah
The 48th annual World Economic Forum, WEF in Davos-Klosters, the mountainous Alpine resort of Graubünden Canton, eastern Switzerland took place from January 23 to 26,2018. Leaders from all walks of life come together at the beginning of the year to rededicate themselves to improving the state of the world. This year's programme was on "Creating a Shared Future in a Fractured World." Many of the participants identified the fractures and were concerned about making the difference.
One wondered whether it was possible to have a shared future in a growing world of inequality with the global wealth concentrated in the hands of less than one percent elite of the over 7 billion world population. And typical in mortal combat, it may not matter too many of the world most powerful, the extravagant and almost tasteless display of wealth as witnessed in the recent WEF. The richest in glitzy, glamorous and status symbols shows, were airlifted in over one thousand private jets causing heavy traffic in the Swiss skies in the week-long meeting.
There are now genuine fears that the global commons who cannot protect itself would become intolerant and cause global instability. The social contract between states and their citizens continues to erode with perceptions of leaders' inaction. Forum organisers believe participation by world leaders epitomizes the collegial Spirit of Davos to change the geostrategic narratives on multiple fronts.  Out of the 14 system initiatives, shaping the future of energy and the future of environment and natural resource security dominated discourses this year.
The Indian Prime Minister, Narendra Modi's speech, which apparently opened the summit, identified climate change as the number one threat to civilisation and called for more wealth transfers from rich countries in order to help poorer nations adopt appropriate technologies for reducing climate emissions. Many knew the angle Modi was coming from.  His submission was a precursor to intellectual debates on global warming and climate change.
Some experts were able to canvass but not able to foist the widely held view that burning fossil fuels (coal, oil and gas) makes the earth a hotter place. Selling the apparent threat of climate change became half the battle as it coincided with the period when many United States cities experienced gelid weather of extreme cold temperatures in minuses that never occurred since 1884. According to Weather.com, Flint, in Michigan, set its all-time record-low temperature for December of 18, degrees below zero. Davos also had extreme cold. But an Australian science writer Joanne Nova, in a counter, submitted that extreme cold is just weather but all heat waves are climate change and human attribution.
Whether a battle of wits, there styled was discordant synchrony in the fossil fuel campaign among political leaders especially between America and members of the Organisation for Economic Cooperation and Development, OECD led by France.  Trump was not under anybody's thumb, but some experts believed his slight comment in Davos was a retroflection on his America First mantra to: "America First does not mean America alone." But he was clear that the United States lifted self-imposed restrictions on energy production to provide affordable power to America and to promote energy security for American allies globally. Trump had imposed a four-year tariff on imported solar cells and modules.
Trump was clear that America's foes Russia should not hold others hostage as an assumed single provider of energy. Energy Secretary Rick Perry earlier said that the United States shale production will not be a spoiler of global oil and natural gas prices in 2018 and was hopeful that unconventional production is sustainable in the long-term. The belief as portrayed was that America was freeing up their allies around the world with energy choices, and letting them know that there were no strings attached in buying American gas.  It was obvious Trump did not lose focus on his America First Energy Plan on fossil fuels that drilling benefits outweigh environmental worries.
President Emmanuel Macron on the other hand was more concerned about the consequences of fossil fuels and believed the world was losing the battle on climate change targeted by the Paris agreement. He promised that France will shut down all coal-fired power stations by 2021. President Macron called on the EU to create a floor price for CO2 in its first carbon trading market to discourage its use in 619 coal-powered plants in Europe. France and India have courted themselves in the International Solar Alliance, ISA, and a techno-political romance to facilitate large-scale deployment of solar energy in 121 countries in the tropics by aggregating the demand for funding, technology and innovation. Developed countries commitment was to contribute US$100 billion annually from 2020 to mitigate climate change impacts in developing countries.
The deliberations were adjudged by organisers as unmatched, being a global policy initiative to engage leaders in peer-to-peer working sessions. The Forum acts as a catalyst for major bridge-building efforts to further global peace and reconciliation as well as create awareness in latest economic and socio-political trends.