By Sam Eyoboka
Delta State First Lady, Dame Edith Okowa, under the aegis of Delta Mothers Arise, an offshoot of her pet project, O5 Initiative, gathered Christian mothers, irrespective of denomination, at the Unity Hall, Government House, Asaba, for an annual intercession for families, communities, churches, state and the nation.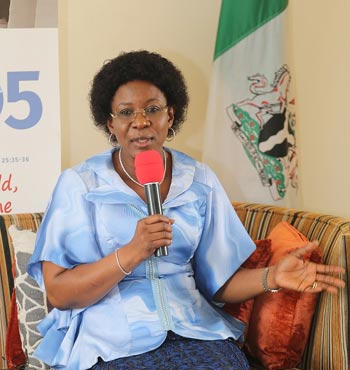 The annual religious event, started 11 years ago by the wife of then governor, Deaconess Roli Uduaghan, took place on February 12 where Dame Okowa outlined the reasons she decided to sustain and improve on the programme, saying: "My sister, Roli, planted this good seed while in office. She did so well by pointing all of us to Jesus Christ. I am glad today the vision and tradition of gathering Delta mothers to pray has not died and will continue even after I leave office."
One significant improvement of this year's edition of the spiritual fiesta was the Monastery-like orderliness that characterized the event.
While delivering her sermon on the theme, 'Brokenness: Needful for a Successful Walk with God',  the guest preacher, Pastor Ruth Aifobokhia, said only "broken people can be used by God".
The Delta-born  preacher observed that due to unbrokenness, many mothers (or women, to be more exact) had lived and died without "making any impact." She charged the congregation to "dare to be different," urging them to "arise in the place of prayer, intercession and godliness."
Speaking on the theme, the founder of O5 Initiative, Dame Okowa observed that brokenness was required to "preach the gospel"and then asked,"How, do you talk to or correct your children when you lack the moral justification to do so?"