110 Yobe girls confirmed missing — LAI MOHAMMED
By Bala Ajiya, Joseph Erunke, Ndahi Marama & Dirisu Yakubu
DAMATURU—The Federal Government yesterday finally confirmed that 110 students of Government Girls Technical School, Dapchi, Yobe State, were missing.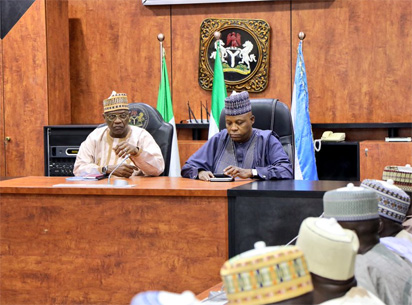 Government's confirmation came barely 24 hours after parents of the missing students gave a figure of 105.
Boko Haram insurgents had attacked the school last Monday night, taking away some of the students, whose number had now been confirmed to be 110.
Minister of Information and Culture, Alhaji Lai Mohammed gave the confirmation after meeting with Governor Ibrahim Geidam, parents of the students, security agents, officials of Bursari Local Government and authorities of the school at Government House in Damaturu.
Alhaji Mohammed and Minister of Interior, Lt. General Abdulrahman Dambazau, had arrived Damaturu as members of the second Federal Government delegation to the state, with the Information Minister earlier on Thursday on the first delegation to the location of the school at Dapchi.
'110 girls unaccounted for'
After the meeting with the stakeholders, Alhaji Lai Mohammed in a statement issued by his media aide, said:
"The Federal Government has confirmed that 110 students of the Government Science and Technical College in Dapchi, Yobe State, are so far unaccounted for, after insurgents believed to be from a faction of Boko Haram invaded their school on Monday (19 February, 2018).
"The Minister of Information and Culture, Lai Mohammed, announced the figure after a meeting between a Federal Government delegation and representatives of key stakeholders, including the state government, the college, the parents, security agencies and Bursari Local Government, where Dapchi is situated, in Damaturu on Sunday (yesterday).
"He said, based on the briefings from the principal of the college, Adama Abdulkarim, and the state Commissioner for Education, Mohammed Lamin, 906 students, out of whom 110 have not been accounted for, were in the school on the day of the attack.
"Mr. Mohammed also announced that the Federal Government has directed the police and civil defence authorities in Yobe State to immediately deploy their personnel to all schools in the state in order to ensure security and safety of students and their staff.
"The minister disclosed that the Federal Government has stepped up efforts to rescue the girls and return them safely to their parents, and that security agencies are working on many leads regarding the whereabouts of the girls.
"This is the second time in four days that a Federal Government delegation would visit Yobe State since the unfortunate incident. This is a measure of the seriousness with which we are addressing the issue. The security forces are leaving no stone unturned in their search for the girls.
"We are back here in Yobe as part of efforts to provide some succour to the parents of the girls, to let them know that they are not alone and also to reassure them that we will not rest until we have found the girls. We will carry the parents along on the efforts we are making."
Speaking after the meeting, Minister of Interior, Lt. General Abdulrahman Dambazau, retd, said the delegation embarked on the trip in order to get the facts right, so the approach to the solution could be correct.
"We must get back the girls and also ensure that this does not happen again," Dambazau said.
Borno gov pays sympathy visit
Meanwhile, Borno State governor, Kashim Shettima, yesterday paid sympathy visit to Governor Ibrahim Geidam in Damaturu over the attack.
Shettima, who is also chairman of Northern Governors' Forum,  said during his visit that the unfortunate incident in Dapchi reminded him of conspiracy theories regarding the Chibok abduction, and cautioned politicians to learn a lesson on the need to separate politics from issues of security.
He said:  "Your Excellency (Gov. Geidam), I have been in your shoes since 2014 when schoolgirls were abducted in Chibok. I know exactly how you feel. When our daughters were abducted in Chibok, only God understood how I felt and I can imagine how you also feel, and the trauma you are going through.
"The parents of these girls would always look up to you with hope in the midst of agony. I know you are pained but I also believe that insha Allah, these girls will be rescued very soon.
"It is unfortunate that we have faced yet another abduction but that only reminds us about the difficulties of fighting insurgency. Oftentimes, they strike where you least expect. Before Boko Haram attacked Chibok, that Chibok had the least threat of Boko Haram in the North East.
"No one expected them to even think about Chibok because it is a mostly Christian community where Boko Haram was hardly an issue. If the parents thought Chibok wasn't safe, I don't think they would allow their children to be there.
"Of course, as a government, we wouldn't dare do so. In the same vein, I don't think anyone ever expected an attack in Dapchi. This incident, however, reminds all of us not only in Borno and Yobe but also perhaps across Northern Nigeria to be on guard.
"I think the difference between the Chibok incident and this one, is that the Federal Government didn't react in denial, doubt or formed a conspiracy theory. The Federal Government assumed responsibility which we hope will lead to rescue of the schoolgirls. When schoolgirls were abducted in Chibok, some people said there was no abduction because Borno was in the opposition.
"Those who admitted there was abduction came up with a conspiracy theory that the APC leaders perpetuated it in order to win the 2015 elections. Now, this abduction took place in an APC-controlled State under an APC-led Federal Government.
"What this reminds us, in a very painful way, I should add, is that as political actors, we should learn to separate politics from issues of security. Human lives are very precious in the sight of Allah."
The governor said he was in Yobe not only as governor of Borno but also to represent the Northern Governors Forum.
He said further:  "I am here as governor of a sister state, because Borno and Yobe are like siamese twins; what affects Yobe invariably affects Borno. I am also here as representative of the Northern Governors Forum.
"I am used to travelling all the way to the south to represent our forum over sensitive issues, particularly on security. I felt it would be an irony if I go to far places and I don't come to neighbouring Yobe State at a time like this. Your Excellency (Gaidam), our colleagues have mandated me to tell you that we stand by you at this difficult time.
"We share the grief of parents whose daughters are affected by this unfortunate incident. They are not their daughters alone, they are our daughters as well. I know that Your Excellency has been supportive of the military over the years with other security establishments in the state.
"I know you are working closely with them to have this resolved. This period requires us to be stronger, more united and more focused. We should remain in prayers with a strong hope that these girls are rescued as quickly as possible.
"We should remain in prayers that insha Allah, enduring peace will return to Yobe, Borno, Adamawa, the entire north and Nigeria. I am an eternal optimist. I see optimism in Your Excellency every day. I believe that these trying phases shall pass, insha'Allah. Bi iznillah, Yobe and Borno will gain lasting peace, tranquility and prosperity and this, we pray and hope, will happen soon."
Air Force deploys assetsIn a similar development, the Nigerian Air Force, NAF, said it has deployed additional air assets, including Intelligence, Surveillance and Reconnaissance, ISR, platforms to the North East in its renewed effort at locating the missing Dapchi school girls.
NAF in a statement by its spokesman, Air Vice Marshal Olatokunbo Adesanya, said before now, following confirmation of reports that some of the girls were yet to be accounted for, it deployed some ISR platforms and helicopters to search for and possibly locate the missing girls as well as the rogue Boko Haram terrorists.
The statement read:  "Although these search operations were conducted in a covert manner, for obvious reasons, the efforts did not yield the desired results.
"Accordingly, the Chief of the Air Staff, CAS, Air Marshal Sadique Abubakar, directed the immediate deployment of additional air assets and NAF personnel to the Northeast with the sole mission of conducting day and night searches for the missing girls.
"It is noteworthy that the renewed efforts at locating the girls are being conducted in close liaison with other surface security forces.
"While the NAF will spare no efforts at possibly locating the girls via its air operations, it also seizes this opportunity to call on anyone, especially the locals, who might have any information that could lead to the location of the girls to bring such information forward to NAF authorities or other relevant security agencies."
Dapchi girls : Your tears not enough, PDP tells FG, APC
The Peoples Democratic Party (PDP) has charged the All Progressives Congress (APC)-led Federal Government to stop shedding crocodile tears and instead, provide answers to urgent questions surrounding the recent abduction of schoolgirls in Dapchi, Yobe State.
The party, in a statement by its National Publicity Secretary, Kola Ologbondiyan, yesterdday, said the Buhari Presidency has a lot of questions to answer regarding the alleged complicity of security agencies around the area coupled with misleading reports that frustrated immediate rescue of the abducted girls.
"The PDP and indeed all well-meaning Nigerians are appalled by the crocodile tears being shed by the incompetent and deceptive APC-federal government instead of scaling up actions on the matter.
"Nigerians have been in shock over revelations by the Yobe State governor, Alhaji Ibrahim Gaidam, that the abduction was preceded by withdrawal of troops around Dapchi, thereby rendering the area defenceless and paving the way for insurgents to attack and abduct our girls.
"We challenge the Presidency to come out clean on issues surrounding this abduction. Who authorized the said withdrawal of troops from the area and for what purpose? What alternative security measures were put in place to protect the people after the troops were withdrawn? Who controls security intelligence gathering and consequential protection action and what action was taken to guarantee adequate security in the area?
"We charge the Federal Government to open up on who scripted and released the false rescue report which frustrated prompt action that would have led to the recovery of our innocent girls? Why was that misleading report issued and whose interest did it serve?
"Indeed, from all indications, every right-thinking Nigerian has deduced that there are more than meet the eyes in this ugly episode for which those in authority have a lot of questions to answer.
"We invite the world to note that after exposing the community to harm and frustrating prompt rescue, the incompetent APC-controlled Federal Government has not taken any concrete step to give the abductors the desired chase to recover our girls.
"Rather, they sent a delegation of persons with no knowledge of security to Dapchi on fact-funding missions," the statement read.