That nobody talks about it, does not mean it is not in existence. There are professional escort services all over Nigeria, a simply search on your favourite search engine of words like 'Escorts in Lagos' , 'Escorts in Abuja', 'prostitutes in Nigeria' will produce hundreds of results. 'People and Places' took a sneak peek into one of these agencies; well, they claimed to be a charity and a directory, simply known as 'Codedruns', a top online escort directory.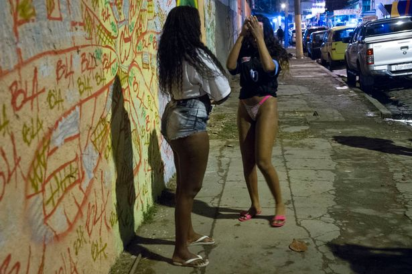 The directory specializes in providing companionship for men, and sometimes women who are willing and able to afford quality time with members of the opposite sex. The management revealed that the site receives 1.9 million visitors from Nigeria monthly. By far the biggest escort directory in the country, the ease of ordering an escort is just like Taxify and Uber complete with a review system. The website of the directory, www.codedruns, to be honest is well designed, you get the feeling the people behind this business are not messing about. We scanned through a few profiles and decided to get direct views of the registered escorts.
The first escort we spoke to, under the category 'Escorts in Lagos' or Lagos Escorts, who didn't want her name mentioned revealed that the site is god-sent as they escorts don't have to stand by the road side any longer, under harsh weather conditions to ply their trade, as they now run their business online. "A client will typically browse the site, or search the site under the various available categories; eg 'Escorts in Abuja' or Abuja Escorts, Escorts in Nigeria or Nigerian Escorts, and find who he fancies, then sends a message to know if we are available and then we negotiate the cost.
We prefer hotels or residential homes in choice parts of town. We also offer in-call as well – whereby customers can visit and engage us in our houses." Most of the escorts we spoke to said they make an average of one hundred and fifty thousand naira and two hundred and fifty thousand naira weekly. Then later when they (escorts) subscribe for premium, they can appear on the front page. However, they revealed that some clients can be naughty and want to cut on the agreed price, but majority are nice gentlemen.
The website also have blacklisted clients, which warns escorts of reported dangerous clients or 'osho-free' client, as well as blacklisted escorts to warn clients of fraudulent escorts. Our most shocking revelation was with Queen, a premium escort who revealed that she used to be a banker but resigned when she learnt of the directory. "I used to earn forty thousand naira monthly at the bank, which required travelling around Lagos looking to sell bank products to already frustrated people; and getting molested, and sexually abused on numerous occasions. Truly, people don't know what these marketers see, yet the bank managers are never happy nor grateful, but now I make that amount in two days as an escort on the site. The secret is to ensure your profile is on the front page by subscribing to the weekly premium and Feature service." she said.
On skimming through the website, we found a contact number and decided to reach out to the admin to ask a burning question on our minds. We got hold of who appeared to be the site admin; a well-spoken gentleman- Mr Jeff, and proceeded to ask the question if such a site doesn't promote prostitution. He quickly replied with a well-rehearsed statement saying: "Look guys, we don't do that, in fact we see our establishment as a charity; protecting the lives and working conditions of "Working girls and guys." Who would otherwise have been on the streets, or being pimped out, or having to register with exploitory agencies who take cuts of up to 60% of an escorts earning." "We, Codedruns, don't charge a penny for registration for both escorts and none escorts, registration is absolutely free." "We don't recommend or solicit any escort for clients nor do we solicit or recommend clients for escorts." "We don't take any commission or cuts on "tributes" paid to any escort for their time". "The men and women who pay escorts are not paying for sex but rather are paying the escorts tributes for their time. Whatever then happens between two consenting adults behind closed doors is their prerogative. So do note it, we are a charity, a directory, a listing, but never an Escort Agency!"
We then decided to get a feel of this website. On registering as a female "independent escort" under the category 'Escorts in Nigeria', complete with an overtly sexualized female photos, we headed back to the office to make our report. Within the 45 minutes trip back to the office, our glamorous profile on the site had received 150 views and over two dozen phone calls. In 45 minutes! This is truly astonishing, if this experience is a snapshot of the rate by which Nigerians have become sexualized. And just wonder, how many of those dozen callers are married men?