Stanley Obiamalu S. well known as Director SOS"" is a dual citizen of Nigeria and South Africa. A Johannesburg based music video director. Popularly known for directing 'Whats that' by Vector, Replay by Ice Prince, 'Woss' by CDQ, Normal level by Dj Kaywize and many other music videos in africa..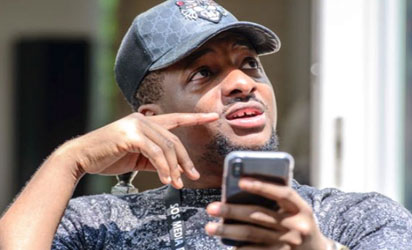 At what moment did you decide that video directing is what you wanted to pursue full-time?
Creativity has always been my thing since I was young. I have had many artist as friends even Before I started directing so I have been to many video shoots and loved the process. I decided to give in fully to the art when I realized it was more of a passion , I find the process of filmmaking a truly magical experience.The way shots fit together to create the illusion of things happening that never did. Sculpting time and space to tell cinematic lies is thrilling
Q.What were some of the things you thought you would encounter when you started making music videos?
I wasn't trying to compete or had expectations, for me it's was telling my own stories through the lens and having fun with it! So I didn't think of the negative side of it.
How do you bring out the best in your videos when you are being approached with a light budget
Most times I ask my friends if its all worth it, but the passion won't let me quit! because of my obsession for taste and quality I always still intend to keep the video to a certain standard. Sometimes I end up adding my own money to the budget and then I only find out few days after the shoot. Most times I'm always at loss.
If you where to change anything in this present industry, what would that be and why?
Change is relative, I see change differently, change seem to be the easy word most people use as an escape to fixing realities. I am not trying to reinvent the universe, there is nothing new under the sun and if there is anything to change it will be changing the way people see change. So for me I'm not thinking change, rather make things look different and better from what they are.
You had a very publicized relationship with Victoria kimani and since then you have not been spotted with any other lucky lady. Are you still searching?
Lol, well I wasn't searching….but I'm in a happy relationship now.
I notice you have impeccable taste when it comes to fashion and style. Do you have a clothing line in the works of SOS?
I don't have a clothing line at the moment, even though I use to have one back then in Nigeria called 9star clothing. Right now I just have my own fashion designer who always makes sure I'm in check.
 Q.What piece of advice would you give your younger self on how to approach the industry?
For me i believe one has to be passionate about this before going into it. If you aren't passionate about it, you will dry out, you will freak out and you would be stressed out…if you love it, hold onto it. You would meet and work with difficult people and you will come across unexpected challenges But only the passion is enough to keep you going.
Q.Do you have any project you want us to watchout for this year or artist?
A.in fact a lot, most people think SOS MEDIA PRO is just about Music Videos, well let's break this jinx, we have the best team who can deliver high end movie production, TV commercial. We working on a TV series this year and also I'm doing a project this year which involves bringing 2 or more artist together for a collaboration under SOS and shoot a video for it. Working on the 1st single already but I will keep it private for now'
Q.What would you like to say to your fans?.
To those that admires and support my work and creativity, I just want to say thank you and look forward to doing greater things with great minds.