By Gabriel Olawale
Wife of the Governor of Lagos State, Mrs Bolanle Ambode has admonished Nigerians to step up awareness and public enlightenment on cancer, saying cancer can be effectively prevented if simple dietary and medical instructions are followed.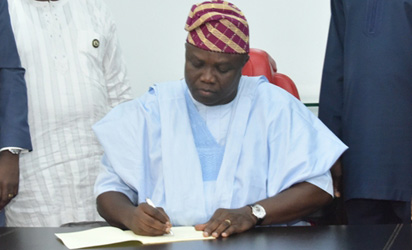 Ambode who spoke at the 4th Omolara Jolaoso Memorial Lecture organised by Landers 88' Reunion Club, said those diagnosed with cancer can also be managed to live normal, useful and pain-free life.
SHe said:  "What we must emphasise is what can be done to save precious lives and prevent needless deaths in the cold hands of cancer.
"For too long, it has caused untold pain and anguish among the people but the happy news is that cancer is gradually being demystified. Though a permanent cure may not have been found yet, we now have reliable clues on prevention and the condition can be effectively managed with strict adherence to medical instructions.
"What we are saying therefore, is that cancer is no more a death sentence, if people will strictly follow medical advice and treatment instructions."
Corroborating her view, Medical Director, Alimosho General Hospital, Dr. Madewa Adebajo urged Nigerians to do away with  lifestyle that can predispose someone to cancer and do medical checkup regularly.
"Part of it is environmental factor, we are talking about global warming, it is getting hotter daily meanwhile many people  destroy their skin with creams, removing the protective part of their skin. A lot of people are using generators,  smoking, taking alcohol and the fact that we have embraced western lifestyle can predispose us to it.
The President of Landers 88' Reunion Club, Soji Adekogbe, called on government to declare a purpose driven state of emergency in the health sector.
"Sadly due to limited cancer treatment equipment in Nigeria, many die before it is their turn to be on treatment, so government needs to integrate cancer control into our national development agenda.