By Johnbosco Agbakwuru
GOVERNOR Samuel Ortom of Benue State, in this interview recounts his travails with regards to the unceasing herdsmen's attacks in the state and opposition to the Benue Anti-Open Grazing Law
by some heads of security agencies and the leadership of the Miyetti Allah. However, he says he is ready to pay the supreme price to protect his people, adding that some powerful people plan to kill him but are afraid of the media.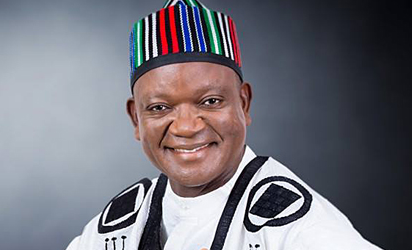 How do you assess the role of the media oncerning the constant herdsmen attack on your people?
I want to begin by appreciating the media for the passion it has shown to Benue people and to me as a person and the various roles it has played, not just during this crisis but also in promoting and projecting my activities and that of my government.  So, I remain very grateful, you have shown uncommon love to me for reasons I cannot explain.
Talking about the role, it will not be fair to limit it to the crisis I had in Benue State. I would say that it has been wonderful. ln fact, if not for the media I would have been consumed by now.
Some people are afraid to kill me because if they do that the media will shout. There are certain things or actions that certain people would have done if they had their way, but it is like the entire Nigerian media are working with me and are supporting the course that I am pursuing on this matter. And so that alone has restrained them from doing certain things they would have done against me.
So the role of the media in nation building, reshaping the opinion of the people and causing things to work is very critical and in my case, if not for the role you have played nobody would have heard us.
Several attempts were made to block your reports, I know the intimidation from certain quarters against you; some of you have been branded to be promoting hate speeches and they have called you names, yet you have never stopped promoting the truth.
And I tell you the Bible says whatever you do, do it as unto God, it is only God that rewards in this life.
I tell you the truth, the Bible says you shall know the truth and the truth shall set you free. In Nigeria today, we have no business being where we are. We would have been far ahead of where we are today but for a long time we have suppressed the truth.
We must promote the truth, we must respect the constitution and the rule of law.
I felt so sad when the Minister of Defence and the IG of police were acting the script of Miyetti Allah instead of doing the jobs for which they are collecting tax payers money every month.
If not, how can you say that the Prohibition of open grazing and provision for ranching law of 2017 in Benue state brought about those killings? Didn't the killings take place in 2011,  2012, 2013, 2014, 2015, 2016 and 2017?
This law is a necessity arising from the killings that were taking place. And for us we sought to bring a permanent solution with the perennial problem of herdsmen and farmers clashes and we did our research and globally we adopted global best practice which is ranching for all types of animals.
And so it is amazing for anyone to assert that it is because of the law.
In any case, is this law in Adamawa state, how many people did we hear that were killed? And almost everyday people are killed. Do we have the law in Plateau State, Kaduna State and Nassarawa State? We already have more than 10,000 IDPs from Nassarawa State camping in Benue State. Do they have this law in Edo, Ondo, Bayelsa and Rivers states?
So, it is not about the law, it is deliberate and we live in a country where people will come out in the name of Miyetti Allah and issue threat that they are coming to attack, that they will mobilise people to invade the land and take over the land and even when you report to the authorities, no action is taken and they expect you to keep quiet and where you are a leader elected by the people and they are looking unto you for protection, what do you expect me to do?
I should speak and of course when I speak the media is able to alert the whole world and today the whole world appreciates the magnitude of the problems that I am going through. How can you be in a state and you have seven IDP camps hosting more than 100,000 people? And 60 percent of these people are children, who should be in their schools, they are being denied of their legitimate rights which we as leaders are supposed to give them.
So, it is painful and really unfortunate that some people who are responsible for enforcing the laws of our land and ensuring security of lives and property have demonstrated incompetence.
Take for instance, the President directed the IG of police to relocate to Benue State to ensure that these killings stop. The IG came in one day and left. He is sitting in Abuja and has chosen to send his PPRO to be insulting me on  television for doing what is right and for him not doing his job. This is unfortunate and it is like there is general disconnect among even the security agencies.
Today one would say it is a terrorist organization from West Africa that is coming to attack, tomorrow another will say it is because of the anti-open grazing law.
We have repeatedly called on the security agencies to arrest Miyetti Allah who are sponsors of these militias. The militia group is on YouTube. The Fulani militias are in their numbers with AK47 all over. Even when they were coming to attack people in Benue they boarded two boats, they were more than 200. They filmed it and released it on social media for people to see their mightiness, where they sat and were making plans to attack Benue, yet the IG of police will say that it is Benue people that have arms to attack, it is unfortunate.
If I had 6,000 militia with AK47 will my people be massacred in the manner that it happened on the January 1, 2018? If I had them, will I still be crying to the police and to the President everyday that my people are being killed?
Since after the burial of these people, there is no single day that one or two persons are not killed and the security men are not even spared; policemen have been victims, they have been killed in the course of trying to promote peace and arrest these persons.
There are several reports and write-ups that this is not normal, it is not about grazing and some who should be taking action are not doing so. They are talking about jihad, ethnic cleansing, taking over the land, the struggle for Benue valley.
There are some Nigerians who believe that you have left APC in spirit. Are you under pressure to return to your former party, the PDP?
That is not a problem to me at least for now. When these killings took place and I looked at the magnitude and I saw how people were running all over this place, my local government is affected, my ancestral home is affected, everybody deserted, my farm is affected.
More than half of the local government is deserted, you see them living in Makurdi here or they have found refuge somewhere or staying in IDP camps. Then, the dead people were not even buried and I decided that this is something that would require the entire Benue people to come together and  work to ensure that we have a way forward, for peace to return and let our people go back to their ancestral homes.
So, I decided that I will withdraw from all political activities and that is where I am now. I am still a member of APC but for now, I have withdrawn from all political activities whether campaigns as you can see, I am no longer talking about that for myself or any other person until I am able to resolve this because that would bring distractions and that would also discourage some people who are supposed to make inputs so that we resolve this matter.