Goalkeeper Dele Ajiboye has told journalists in Morocco that he is always prepared to be thrown into the action even when he is warming the bench.
The Plateau United shot stopper was outstanding after he came on as a replacement for injured Ikechukwu Ezenwa as early as the 12th minute in the semi-final against Sudan on Wednesday night.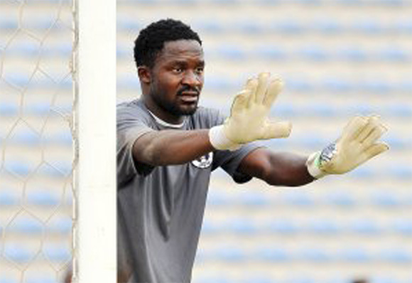 "Normally the thought of coming into the match wasn't on my mind, but as a professional I was always prepared for when I would be needed."
He added: "From my knowledge in this game, an injury can occur at any time and also the coaches always emphasize especially during trainings that we need to prepare mentally and physically as we could be called upon without notice. So I just thank God for everything."
Ajiboye said he is excited to put Nigeria on the verge of making more history on Sunday night in Casablanca.
"I give glory to God once again. Before we left Abuja the training was okay and I just thank God that I am still in the team who are making the nation proud," said the agile goalkeeper, who dedicated the win over Sudan to his wife.
"I am also happy I was able to deliver the gift I promised her, which was that even though I'm not first choice Nigeria would get to the final and thankfully it has come to pass," he added .