By Kingsley Adegboye
Adron Homes and Properties Limited, a Lagos-based real estate firm is set to expand its horizon by replicating some of its new housing initiatives such as Town Park and Gardens and Central Park and Gardens in Imota, Lagos and Kuje area of the Federal Capital City, Abuja in the nearest future.
The Group Managing Director of Adron Homes and Properties Limited, Oba Adetola Emmanuel King who disclosed this at a press conference in Lagos to announce its annual 'Lemon De Val Party' which holds on February 14, 2018, said the widening housing gap in the country informed the decision of his company to go into housing provision, particularly as it affects Lagos and the FCT.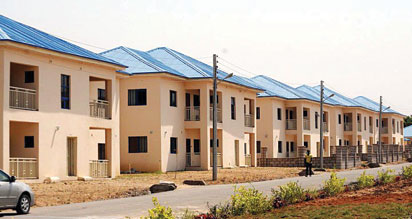 Explaining that over 60 million Nigerians are living in indecent housing, Adron boss said: "How to adopt a pragmatic approach to bridge the deficit and solve the problem of housing in Nigeria remains the focus of our real estate firm."
Shedding light on some of the innovations being adopted to encourage Nigerians to own their homes, he said: "Adron Homes is celebrating this Valentine season with all Nigerians home and abroad with our ' Lemon De Val Promo 2018.'
"We are giving a 14 per cent discount in all our estates. Pay an initial deposit of N140,000 for a plot, spread the balance over a period of 14 months and you qualify for a free ticket to our, Lemon De Val Promo 2018. Pay outright for a plot of land and you qualify for a raffle draw to win a set of sofa, king size bed and 100 bags of cement. Buy a house and enjoy 10 per cent discount plus a free ticket to our biggest Lemon De Val Party," he explained.
He further explained that they have plans to expand their property portfolio, saying: "We have new estates coming on board. A few days from now, we will be doing ground-breaking ceremony of Town Park and Gardens in Imota, Ikorodu, Lagos.
"We are also going to be doing our ground-breaking in Kuje for Central Park and Gardens in Abuja and also in Ibadan. It is also in our plans to extend to the Eastern part of Nigeria and also in Northern Nigeria.
"Nigerians need shelter,  and to make this possible and affordable, we came to the conclusion that it is by making sure that the entry point is as low as N500. So we make our product available and open more windows for accessibility. The rest is history," he stated. He said the company has partnership with some mortgage institutions and encouraged subscribers to National Housing Fund NHF, to access it.
King said, "They can easily do that, but we as a company, will focus majorly on the traditional style of mortgage because if you look at what is happening in Nigeria today, in the face of workers' salaries both in government and private sectors not being paid, access to mortgage is becoming an herculean task and a mirage day by day.
"So, the best way out for us is to go vis a vis traditional mortgage system whereby you access our products and pay up to 20 years, that is 140 months on zero per cent interest rate.  Nobody has ever done that in the whole world, and this is a plus for Adron Homes," he said.