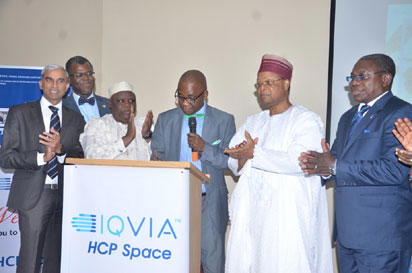 L-R :Director, Technology Solutions, AMESA, IQVIA in Technology, Ravi Akelia; Country Manager, West Africa, IQVIA in General, Remi Adeseun; President, PSN, Pharm Ahmed Yakassai; President, NMA, Prof. Mike Ogirima; President, Nigerian Academy of Pharmacy, Prince Julius Adelusi-Adeluyi; and Chairman, IQVIA HCPSpace Advisory Board, Dr. Femi Olugbile during the MOU signing at the official launch of the IQVIA HCPSpace in Lagos last week
By Sola Ogundipe
HEALTHCARE professionals in the country have been urged to close ranks and move the health sector forward in the interest of  enhancing the quality of health of the average Nigerian.
They should also leverage communication and networking to boost the networth of healthcare by embracing the use of digital health platforms that will positively improve patient outcomes.
Health practitioners at the launch of the IQVIA HCPSpace – a digital healthcare platform – in Lagos recently who called for these and other improvements in the sector said all hands should be on deck to salvage the industry.
President, Nigerian Academy of Pharmacy, Prince Julius Adelusi-Adeluyi, who chaired the event,  noted that IQVIA's HCPSpace is a bridge-building tool that will encourage collaboration among healthcare providers whilst driving efficiency, performance and capacity utilisation as well as innovation in the nation's health space as a whole by leading global provider of information, innovative technology solutions and human data science, IQVIA, formerly known as Quintiles IMS.
"I would like to commend IQVIA for trying to crack a problem that has remained with Nigeria for quite a while given the number of government committees that had been set up in the past to solve the challenge of interprofessional collaboration and promote harmony in the health space.
"This tool will be a blessing to the nation as it will radically alter Nigeria's health landscape for good and help to reduce unnecessary competition among professionals," Adelusi-Adeluyi stated.
Chairman, IQVIA HCPSpace Advisory Board, Dr. Femi Olugbile, pointed to the growing domestication of technology for personal and professional use across the world as well as creating a sense of team in community via multi-specialty task performance and problem solving tools.
He also noted that healthcare around the world faces imminent disruption as evidenced by an alliance announced recently by three heavyweights in Corporate America – e-commerce giants, Amazon, global multinational, Berkshire Hathaway and Investment bank, JPMorgan Chase. The HCPSpace provides  solid benefits and gains in the healthcare sector across the world.
"We are very confident that the IQVIA HCPSpace will help improve healthcare professional practice, patient experience and produce desired healthcare outcomes.
"This is premised around the tool's great value proposition for individual and general development, knowledge sharing and relationship building."