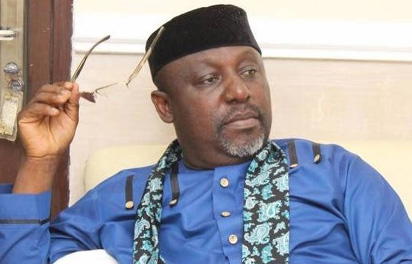 Rochas Okorocha
By Chidi Nkwopara
OWERRI—NO fewer than 275 children drawn from 55 African countries, are currently enjoying free post-primary education in Rochas Foundation Colleges across Nigeria.
Addressing journalists yesterday in Owerri, the Foundation's Director General, DG, Mrs. Uloma Rochas Nwosu, also disclosed that a minimum of five students were drawn from each African country.
"The vision of advancing the fortunes of the average African child, has led the Foundation to extend it's magnanimity to other African countries, with the free education mandate," Nwosu said.
Continuing, the DG explained that the foundation had also set for itself, the target of taking one million children off the streets by 2030.
"Currently, over 15,000 children are receiving free and qualitative education in our colleges and we have recorded more than 4,000 graduates, in the past 20 years of our existence."
According to the DG, the Foundation has 10 functional Colleges in Ogboko, Enugu, Jos, Bauchi, Yola, Zaria, Kano, Sokoto, Ibadan and Owerri.
"We are passionate about free education for every African child. We pride ourselves as leaders in advocating and promoting free education and life changing opportunities for the less privileged African child", Mrs. Nwosu said.