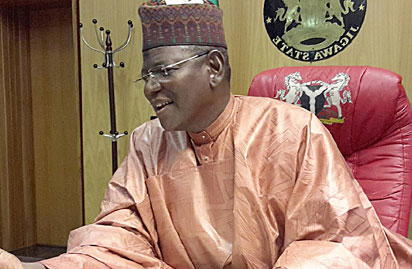 Sule Lamido
By Dennis Udoma
UYO – Ahead of 2019 general elections, the former Governor of Jigawa State, Alhaji Sule Lamido has solicited the support of Akwa Ibom chapter of the People's Democratic Party, PDP, to realize his presidential ambition
Alhaji Lamid, who expressed his readiness to serve Nigerians through the platform of PDP, during his recent visit to the state to consult the party said, his decision to contest for presidency was burned out of his desire to restore the vision of the party's founding fathers of ensuring unity, justice, equity and fair play in the polity.
"There is so much wisdom, capacity, dexterity and goodwill in PDP. So, I am here as your brother, fellow party man, and a friend to engage you, and declare that, I have made the decision to offer myself to serve the country, which we have called our own. So, if you find me worthy of your trust and mandate, together we will restore unity, equity, justice and fair play in Nigeria. My aspiration is not desperation and it is only your support that can guarantee my success story in 2019'', he said.
The presidential aspirant, who visited the state recently maintained that, he was coming to consult the party of his intension to vie for the office of president and curry their blessings.
Earlier, the State Chairman of PDP, Obong Paul Ekpo, applauded Alhaji Lamino and members of his campaign team for coming to consult the state chapter of the party adding that, the leadership and members of the party were delighted to welcome them to the state.
According to him, "we are happy that you have come to consult and seek our support. Our leaders are all here to discuss and they have commitment to the success of your aspirations'' said, Ekpo.
He assured Alhaji Lamido that, with the delegate strength of Akwa Ibom as Nigeria's vote basket, they would stand by him as 2019 beckons.
In their separate remarks, the pioneer National Publicity Secretary of PDP, Senator Anietie Okon; a former Deputy Governor of Akwa Ibom, Dr Chris Ekpenyong and Obonganwan Grace Ekong thanked the aspirant saying, it was time to rebuild Nigeria.
They urged him to include Akwa Ibom interest to confirm that he is a symbol of freedom, peace and unity.