What's my Horoscope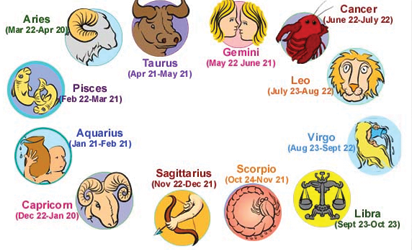 Dear Joshua,
Kindly tell me how the planets lined up when I was born and the day of the week I was born but don=t publish my date of birth.. Please tell me my full horoscope
Anonymous, Nigeria.
Dear Anonymous,
You were born on a Sunday. The Sun was placed in early degree of Scorpio together with many other heavenly bodies. Then with the Moon in Libra when you were born Libra will equally be influential in your characteristics build up but, you are mainly a Scorpio born person.
YOUR HOROSCOPE DATA
Day of Birth = Sunday
Sun Sign = Scorpio. Sun in Zero Degree of Scorpio
Moon Sign = Libra: Moon in 5th Degree of Libra
Mercury in 12th Degree of Scorpio
Venus in Zero Degree of Sagittarius
Mars in 1st Degree of Aquarius
Jupiter in 29th Degree of Cancer
Saturn in 10th Degree of Scorpio
Uranus in 27th Degree of Cancer
Neptune in 25th Degree of Libra
Pluto in 26th Degree of Leo
North Node in 8th Degree of Capricorn
South Node in 8th Degree of Cancer
No planet  in earth spar sign, one in available, two in fire, three in  air, four in cardinal, fixed and water star signs hosted five planets each.
PHYSICAL INFLUENCE = 50%
NON-PHYSICAL INFLUENCE =50%
PLANET AT HOME = NONE
ANALYSIS OF THE HOROSCOPE DATA
You are both an intelligent and emotional person. And as there was planet at home when you were born, too many ideas will always struggle for prominent place in your mind, thus decision making is difficult but most times, your intelligence comes to the rescue.
Certainly, you appear to other as a gentle person who can be mistaken for soft fellow but your inner-self is the personality with a steel like will power.
You are the consistent type who may find it difficult to change once you have made up your mind as indicated by distribution of the planets as written out in paragraph two of this exercise.
One major challenge you have been battling for a very long time is constant worries, some times, necessarily and the other time, uncalled for, as indicated by conjunction Mercury and Saturn formed when you were born.
Placement of your natal Sun (basic self head) and Moon (your sub-conscious self) in Scorpio and Libra respectively are indications of your being mainly Scorpio born person and partly in Libran. And that is to say basic characteristics of both Scorpio and Libra are highly pronounced in you.
Then, you are spiritually gifted; if you don't develop it is another thing.
Send your date and place of birth to the Astrological
Counselling, P.M.B 1007, Apapa, Lagos
Astrological Counselling
LEO: Even if you continue to work under pressure via increased workload, you will have good results to show for your efforts today. Be steadfast.
VIRGO: Better than yesterday. And the more co-operative you are today the better for you. Those of you travelling for love are in for an exciting day.
LIBRA: Those of you willing to let go hard feelings at work are for a progressive day to the betterment of your finances. Let go yesterday, move ahead.
SCORPIO: Once again, you'll have the needed opportunity to assert yourself to the administration of others. Both love and financial success can be yours with efforts. Reason with your tried and trusted friends.
SAGITTARIUS: You can make it a successful day with positive approach on your part. You will be in a better position to defuse tension within your working arena. Try to be more ambitious.
CAPRICORN Yes! You're not scared a bit even, when opposition and/or competition come your way but, if you give in to diplomatic approach, you'll fare better today.
AQUARIUS: Pressure that came your way suddenly will give way unexpectedly, today, to the betterment of your course. The more financially ambitious you are today, the better for you. Be steadfast.
PISCES: You sincerely believe in intelligent argument or discussion. And if you allow your ability to be diplomatic come to play today, you'll be better for it. Enjoy your love life.
ARIES: You'll tend to become both creative and persuasive to the administration of others. Then those who've been resisting secret love may slip suddenly and become excited.
TAURUS: Even if opposition persists, supports you are getting from the influential people will be enough to see you through. Yet, the more cooperative you are the better.
GEMINI: Your creativity quotient within your working arena will today be enhanced. You'll be blamed if you keep official issues secrets from your challenges at work.
CANCER: After a few tension soaked days, you'll have the needed opportunity to look through windows of the world and have your way as well. Magnetic and/or magic days is predicted for lovers today.
Subscribe for latest Videos